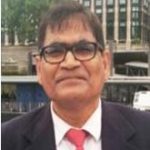 Professor Satya Narayan Misra In Bhubaneswar, November 21, 2023: Even the most cynical critic of cricket would have shed a few drops of tear the way Travis Head swept India out the World Cup final. Travis was no Ponting, pummeling India out of the 2003 WC final, nor was he buccaneers like Gilchrist demolishing Sri Lanka in WC final of 2007.
More importantly, India blazed through the tournament with a Nadia Comaneci type perfect 10, to the finals. It had superb pace bowling trio, an incredible batting line up to number 5, Rahul, and a match winning spinner in Kuldeep. It had few skeletons to hide like Siraj's sloppy fielding and SKY's bellicosity in 50 over format. They had also beaten Australia in the opening match.
With 1.3 lakh crowd braying for Australia scalp and Narendra Modi leaving no stone unturned to fly Kiran aircrafts over the ground, it was a surreal combination of commotion with smoke, hyper nationalism with military pride. Yet when Cummins chose to bowl on winning the toss, many eyebrows were raised! But Pat was aware that the pitch was un watered and dry as dust. He was also aware that as the night will descend the dew drops will dull our spinners and take the bite out of them. He also hoped that Starc, Hazelwood and him can spoil the party for the famed batting quintet.
He could not have conjured a better script as overhyped Subhuman scooped an easy catch off Starc. He looked like a cat caught in closet. Rohit, on the other hand, was like a Prince on an Arabian horse's back, sure footed, on a mission to send the hapless pacers to the stands. Hayden rated him to be the match winner, the way he treated every bowler with his scimitar. He had the similar sangfroid and insouciance of Clive Lloyd in the WC final 1975, against the dreaded trio of Lilee, Thomson & Gilmour.
It was the incredible catch of Travis, off a miscued it that turned the table on India. It was a better catch than Kapil's against the skyer off Viv Richards in WC final 1983, Shewag blames Rohit for playing this indiscreet shot. It was the same Shewag, who was slapped by John Wright, the coach for playing an irresponsible shot as disclosed in his autobiography Indian Summers! Sreys Iyer's weakness against lifting delivery was exposed. Kohli played with his usual grit but was undone by a Cummins special. He did not look infallible, unlike K Rahul, got out to real unplayable out swinger. SKY looked like a cat on a hot tin roof and was the biggest disaster of Indian batting. Even Kuldeep batted better.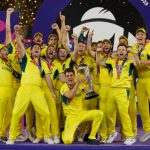 Quite clearly the pace trio of Australia studied the pitch and diffident Indian batsmen better. The Indian bowling duo of Jasprit and Shami bowled like stung bees and the way Smith left without appealing to a slow ball from Jasprit raised the visions of Aussies folding up. Sadly the dead pitch combined with dew did not allow Jadeja and Kuldeep to get any deviation or purchase from the wicket.
Recall, how Kuldeep bowled the befuddled Butler with 4.4 degree turner. Rajdeep Sardesai has peddled the conspiracy theory that the pitch was manipulated to help Indian batsmen to plunder runs. Sadly, bereft of watering and greenery, the Indian bowlers were easy fodder for Travis & stodgy Labuschagne, who reminded of Rohan Kanhai giving support of Lloyd in WC final of 1975, when they were precariously perched. In case, there is any sliver of truth in this conspiracy theory, it needs scathing condemnation and probe by an independent agency.
It must, however, be admitted that Australia looked the better side in all departments, including spectacular fielding. Indian fielding looked mediocre. Rahul's keeping was also shoddy. I am a great fan of Australia, the way they turned the table on West Indian champion team of 1975, winning the test series 5-1. They dominated two decades in all formats.
For me the 2003 WC team is perhaps the best all time one day team. It was Saurabh who could match Australia in the overseas series in 2004 and could inculcate the confidence in every Indian team members that they can meet Australia fire with Indian thunder. And come out with pride and self-confidence. MSD took Indian cricket team to the stratosphere by winning the WC in 2011.
Kapil Dev was 24 when he lifted the first WC for India in 1983, Dhoni was 29. At 36, Rohit had the dynamism of Kapil, daredevilry of Dada and the Zen like calmness of MSD. Sadly he did not have the benefit of a doughty player like Gambhir and pugilist like MSD who could win us the WC 2011. Dhoni's last ball helicopter six, kissing the azure sky, and stirring the sedate waves of the Arabian Sea remains the best shot by an Indian cricketer in climactic moment. I wish, Rohit or King Kohli had done it in 2023 final. All the same, it was a great Indian team, which was a victim of intrigue and canny Cummins.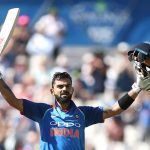 This is not the time to wallow in the thought of a retiring Rohit and Viraat in the next World Cup, but to prepare for the next five years. We had left out quite a few promising spinners like Bishnoi, Chahel and Aswini for the World Cup. We also need to give more opportunity to Gaikwad and Jaisaswal to open the innings and cut our obsession for Gill. Tilak Varma is also a good prospect.
Ishan should keep wickets. In our quest for unlimited thrill, we need to professionalize cricket more than to commercialize it. Politicizing cricket, handpicking venues because of political clout must be eschewed. Cricket, like cinema, is one of the few areas which celebrate our pristine secular culture and multi culturalism. A Rohit lofts Shami after his stupendous performance. A Kohli defends Shami when he is accused of subpar performance against Pakistan. Babar Azam adores Viraat. We must save our cricket from the looming specter of political intrigue and machination. Autonomy of BCCI must be upheld.