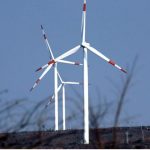 By Bizodisha Bureau, Bhubaneswar, November 3, 2023: Odisha on Friday received assurance of Rs. 4,940 crores investment proposal to generate 575 MW capacity of Wind energy on the sideline of the 'Odisha Wind Energy Summit – Investor Round table'.
The meet was convened by GRIDCO in collaboration with its technical partner -iFOREST to explore investment opportunities in the wind power sector in the State. As many as 25 key investors across the country participated in the summit. The summit served as a significant platform in bringing together key players in the wind power production and manufacturing segment.
Speaking on the occasion, Chief Secretary Pradeep Kumar Jena assured all support to the wind industry for establishing power plants and manufacturing hubs in Odisha. Vishal Kumar Dev, Principal Secretary, Finance & Energy, GoO and Chairman, GRIDCO reiterated the State's unwavering commitment and endeavor to attract investments for wind energy development in Odisha aligning with State's new Renewable Energy Policy (OREP) – 2022 and Industrial Policy Resolution -2022. He also expressed confidence that the summit would certainly serve as a vital stepping-stone in Odisha's ambitious journey towards accomplishing the perspective, vision and mission of wind energy sector.
The technical partner of GRIDCO; iFOREST, in its' presentation highlighted Odisha's readiness to attract and accelerate flow of investment into the wind power sector. At the theme presentation session the key aspects of OREP 2022 were put forth by GRIDCO, while IPICOL highlighted the salient features of the Industrial Policy Resolution (IPR), along with incentives designed to encourage wind sector investors in the state.