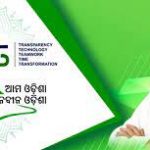 By Bizodisha Bureau, Bhubaneswar, November 5, 2023: Odisha Chief Minister Naveen Patnaik on Saturday virtually launched the 'Ama Odisha, Nabin Odisha' (Our Odisha, New Odisha) a flagship scheme in Mayurbhanj, Sambalpur and Malkangiri, where rural development projects worth Rs 215 crore would be taken up.
He said besides development of villages and panchayats, the programme aims at promotion, preservation and protection of the culture and tradition of the state.
Stating that development of digital infrastructure is one of the objectives of the scheme, Patnaik said the villagers will also get internet connectivity, skill development centres, works hubs and banking facilities under the initiative.
Chairman of 'Nabin Odisha' and 5T (technology-led transformative initiatives) V K Pandian said the scheme was launched on October 10 with a budget provision of Rs 3,397 crore.
A total of 90,723 projects will be implemented in 6,794 panchayats across the state, and an amount of Rs 10 lakh will be allocated for every village, as part of the programme, officials said.