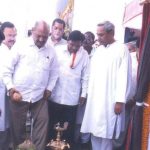 By Bizodisha Bureau, Bhubaneswar, October 30, 2023: Ek samay tha jab Odisha rajya ke Kalahandi zilek o shayad hi koi jantatha. Mujhe yaadhai, in 1985, when the then Prime Minister visited Kalahandi, he was very distressed at seeing the situation on ground and made his famous remark that out of every rupee that leaves Delhi, only fifteen paise reaches those who need it.
Jab Biju Patnaik ji (Odisha Mukhya Mantri Naveen Patnaik ke pitaji) rajyake CM the, he was determined to change the face of Kalahandi. He called me and said that something must be done. His vision was to set up an aluminium industry since the area was rich in resources, particularly bauxite.
Sach batau, I wasn't confident at all about setting up any industry in Kalahandi. But I could not walk away. I decided to visit Kalahandi. When I reached there, I could not believe what I saw. The local population barely had clothes to cover their bodies. They survived by consuming leaves and forest produce. They had no connection with the world outside.
This made me even more determined. Unfortunately, Indian investors did not want to commit to a place they regarded as remote and Naxal-infested. I did not lose hope. I met investors outside India and succeeded in raising 1 billion dollars.
Kewal factory hi nahi, we had to build everything from scratch, rail, roads and airport. CM Naveen Patnaik laid the foundation stone for the world's largest alumina refinery.
We brought the world's best technologies and talent. We employed 21,000 people. To maximise employment for locals, we rotated them in three shifts. You won't believe me, many of these people saw Indian currency notes for the first time in their lives. Seeing the happiness on their faces motivates me to this day.
Not everyone wanted the project to succeed. We followed every regulation, every norm. But a group of NGOs, supported by the Church of England were determined to disrupt the project. They influenced political parties to join them. The world doesn't want India to become a producer. We spent our time battling vested interests instead of expanding the refinery. Even then, our efforts yielded results. Data for Kalahandi shows salaries paid to workers increased by 500%, industrial production increased by 400% and over 100 factories were set up.
We never let our shoulders drop. We got encouragement from none other than our late Rashtrapati Abdul Kalamji. Jab unhone suna humari factory ke bareme, he visited Lanjigarh. He spoke to the local population and declared that an industrial revolution had transformed the face of Kalahandi.
I remain determined to complete what we started in Kalahandi. I believe in inclusive growth and its power to transform a place in one generation. I invite investors to join us in this journey. Hamara sapna zaroor pura hoga. Kalahandi ek viksit or sarbseshresht district ke roop me ubharke aayega.