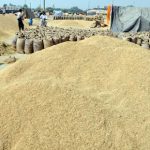 By Bizodisha Bureau, Bhubaneswar, October 22, 2023:: A prolonged dry spell for nearly three weeks across the state has emerged a threat to paddy production and productivity in rainfed areas. While harvesting of autumn paddy has started in coastal districts, medium duration paddy is at flowering to milking stage. Similarly, late duration paddy is in flowering stage. A shower or two is highly essential during these stages in areas where irrigation is not available.
Production of crops is greatly influenced by weather conditions and any change in climate is set to have a major impact on crop yield and productivity. Day and night temperature in such areas is unusually high and the maximum temperature has remained 33 degree Celsius which may cause reduction in yield of rice, said an agriculture scientist of Odisha University of Agriculture and Technology (OUAT).
As top dressing of fertiliser is going on, sufficient water is needed. While the Directorate of Agriculture and Food Production said overall crop condition is normal, most of the rainfed areas have reported moisture stress condition.
"Paddy crops in upland areas may withstand the situation for a couple of days but if no shower is received for a longer period, it may have adverse impact on crops," said an agronomist of the premier institute.
"The longer the crop growth period the higher will be the water requirement. A general rule is that a rice crop will need approximately 10 mm of water per day. Therefore, a crop that matures in 100 days will require approximately 1,000 mm of water while a crop that matures in 150 days will require 50 per cent more," said the agronomist.