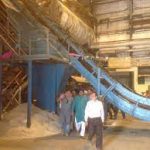 By Bizodisha Bureau, Bhubaneswar, October 18, 2023: Odisha government has finally decided to close Bargarh Cooperative Sugar Mills, which has been lying inoperative since 2016-17 even as there had been demands from western Odisha leaders for its revival.
The state government decided to liquidate the sugar factory following a report by its managing director which is understood to have clearly stated the mill has been lying dormant since 2016-17 with little hope of its business. The sugar mill has eroded its capital as well as borrowings and its share capital is not protected. Besides, not a single meeting of the annual general body of the factory has been held after August 20, 1989 which violates the statutory provision of the Odisha Cooperative Societies (OCS) Act, 1962.
In exercise of powers under section 72 of the Odisha Cooperative Societies Act, 1962, registrar of Cooperative Societies, Odisha, Uddhaba Chandra Majhi issued an order on October 16, 2023, for liquidation of the sugar mill with immediate effect.
"As per the audit report for 2022-23, the sugar mill by not doing any business is not fulfilling the objective of the cooperative societies. The accumulated loss of the mill has mounted to Rs 72.59 crore as on March 31, 2023," Majhi said.
Majhi has appointed additional district magistrate, Bargarh, Lalat Kumar Luha as liquidator of the sugar mill. The state government had made an attempt for revival of the sugar mill by roping in two experts from Central Institute of Sugar, Kanpur for a feasibility study. The experts submitted a detailed project report with a plan outlay of Rs 22 crore for revival of the mill. However, the report was not implemented.
BJP MP from Bargarh Suresh Pujari has also written to Chief Minister Naveen Patnaik reminding the latter about his promise at a public meeting at Sohela in 2015 for revival of the sugar mill. He had requested the chief minister for a grant of Rs 11 crore for the purpose.