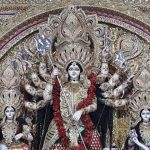 By Bizodisha Bureau, Bhubaneswar, October 14, 2023: The Odisha government on Saturday declared a 10-day vacation for schools from October 20 on the occasion of the Durga Puja festival, according to notifications.
All the schools will remain closed for 10 days for the festivities till October 29.
According to notifications issued by the directorates of secondary and elementary education on Friday, all the district education officers have been asked to instruct the school authorities about the puja vacation.
This year Durga Puja will be celebrated with much pomp and fanfare from 15th October to 24th October. The festival is celebrated with great excitement in Odisha and other states like Bengal, Assam, Bihar, Jharkhand, etc.
The government also declared October 14 as a holiday on the occasion of Mahalaya, the day marking the end of Pitri Pakshya. Lakhs of people offered 'tarpan' on the auspicious occasion of Mahalaya, marking the beginning of the festive season with Durga Puja barely six days away.
On the occasion, Prime Minister Narendra Modi extended his greetings to the people. "On this revered day of Mahalaya, we pray Maa Durga blesses everyone's lives with strength, wisdom, and prosperity. May this special occasion be a beacon of courage, harmony and prosperity. Shubho Mahalaya!" he posted on X, formerly Twitter.
Durga Puja will begin on October 20, which is Sashti, and conclude on October 24, Dashomi.