By Nageshwar Patnaik in Bhubaneswar, October 1, 2023: Ever since Naveen Patnaik took over the mantle of the regional party, Biju Janata Dal (BJD) soon after the death of his legendary father, Biju Patnaik, he has never looked back and ensured to decimate the dissidents one by one.
It is true that in electoral politics no one is invincible. But with pollsters predicting a sixth term for Naveen Patnaik as chief minister, the ruling Biju Janata Dal president will continue to remain a dominant figure in Odisha politics. Staying in power uninterrupted for 23 years is no small feat.
However, the opposition and a miniscule section of the BJD have accused Naveen of rewriting the grammar of politics and governance in the state from Neta-Raj to Babu-Raj by belittling the ministers. Over last few months, the visit of V K Pandian, CM's private secretary, to all the 30 districts triggered a row with some BJD leaders and the opposition Bharatiya Janata Party (BJP) asking whether it undermined the ministers.
The latest criticism has come from media baron Soumya Ranjan Patnaik, who has questioned V K Pandian's helicopter rides to districts for attending "grievance meetings". In a column on his Odia news paper 'Sambad' on August 27 last, Soumya drew a parallel between Pandian and Yashpal Kapoor, the secretary of former Prime Minister Indira Gandhi. Accusing Pandian of making political speeches, Patnaik said Gandhi's election was invalidated by the Allahabad High Court because Kapoor delivered an election speech for her.
Even, the legislator from Khandapada compared the cost of Pandian's visit with the expenditure on the Chandrayaan-3 mission. He said while the Indian Space Research Organisation (ISRO) spent Rs 600 crore on Chandrayaan-3, the cost of Pandian's visit would almost be equal to this amount by the time he completes his tour of the districts.
Subsequently, the inevitable has happened, Soumya was first removed as vice-president and later expelled from the party.
The chief minister early this week has rejected the criticism of his officials eclipsing the importance of ministers, saying that their district tours were done in a decentralised and transparent manner to address the legacy issues pending for years.
The issue was raised by the Opposition legislators as soon as the Assembly convened on the second day of the monsoon session on Monday. Naveen justified Pandia's district tours saying that the mammoth exercise was carried out in more than 190 locations in a period of six months. "A total of 57, 442 petitions were collected and as of date, 43, 536 petitions have been resolved or disposed of. Petitioners were given written replies and phone calls made on feedback through Mo Sarkar. I would say with all conviction that this is one of the biggest and most effective peoples' grievances redressal exercises carried out by any government in the country," he added.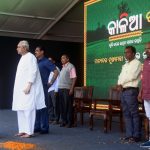 The chief minister further clarified that due to Covid pandemic, the CM grievance cell was closed due to restrictions for almost two years and it was restarted after normalcy returned. 'However, post Covid we noticed that the average number of grievances and people coming to grievance cell had come down. I thought of reaching out to the people, by taking the CM grievance cell to the door steps of the people to cover all blocks and urban local bodies of the state in the shortest period possible. Huge money and time has been saved by the CM Grievance Cell travelling to the door steps of people," Naveen claimed.
Without referring to Soumya's allegation that Pandian's helicopter visits to district would be around Rs 600 crore, Naveen said, "Everyday conducting three to five meetings in different locations is humanly impossible within a window of 10am to 3pm. In the last three and a half years, about ₹40 crore has been spent on chopper. On an average, ₹1 to ₹1.5 crore is spent on chopper every month. In the past six months when chopper was used extensively to reach out to the people, the average expenditure was the same- around ₹1 to ₹1.5 crore per month. It is completely false and misleading to say that excess expenditure has been made."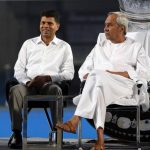 V Karthikeyan Pandian, who took over as the CM's private secretary in 2011 has become much more than a cog in the state machinery since the last election in 2019. He is also secretary, 5T which stands for teamwork, technology, transparency, transformation, and time. Pandian works closely with the Chief Minister's Office (CMO) to ensure that the model is implemented across departments and schemes. While the 5T model has been praised by some for its focus on efficiency and accountability, critics have accused IAS officers of overstepping their bounds and usurping the powers of elected representatives.
It is needless to say that bureaucracy is everywhere and unelected bureaucrats are a key link between government and citizens, between policy and implementation. Less visible, but equally important, are bureaucrats who engage in administrative work, designing and implementing policies. In Pandian's case, he became too visible and became the epicenter of attack. But with Naveen selecting him to do the job, he went overdrive to ensure that the public grievances are properly addressed so that the voters by and large remain hooked to Naveen's charisma.
During the 23-years rule, Naveen has demonstrated zero tolerance to dissidence. The first friend-turned-foe who threw a challenge to Naveen was veteran Bijay Mohapatra, one of the key founders of BJD. Mohapatra was initially allotted the party ticket, but it was withdrawn at the last moment leaving him no time to file his papers even as independent candidate in 2000 Assembly polls. Ever since Mohapatra, who was a minister in the cabinet of Naveen's father, has been in political oblivion.
Naveen, who has earned the sobriquet "smiling assassin", displayed the same ruthless streak while dispensing with troublesome colleagues like former ministers Ramkrishna Patnaik, Nalini Mohanty, Dilip Ray, former MP and industrialist, Baijayant Panda and his former advisor Pyari Mohan Mohapatra.
Only time will say if Soumya Patnaik can prove himself to be different from these dissenters.