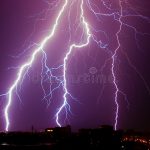 By Bizodisha Bureau, Bhubaneswar, October 21, 2023: Odisha government has directed all schools to ensure installation of 'lightning arrester' in the wake of large number of lightning deaths across the State. The state has lost around 4,000 lives due to lightning since 2011-12.
The issue of equipping schools with lightning arresters was discussed in detail at the 36th Governing Body meeting of Odisha State Disaster Management Authority (OSDMA) here.
Incidentally, most of private and public buildings already have robust earthing system for transferring the immediate discharge of electricity directly to the earth plate. Now, schools have been asked to install lightning arrester at the top building that would help pass surge voltage from lightning into the ground.
Significantly, it has been made mandatory to install lightning arrester in all public buildings across the State. Moreover, all students will be sensitised about precautions to be taken during episodes of lightning. They will be taught about the natural disaster using audio-visual tools in their smart classes.
The State government which has already declared lightning as a State-specific disaster in 2015, has also written to Centre demanding lightning be declared as natural disaster. As many as 10 districts such as Mayurbhanj, Ganjam, Keonjhar, Balasore, Cuttack, Sundargarh, Nabarangpur, Jajpur, Balangir and Koraput are considered prone to lighting. General public would also be sensitized on how to conduct themselves during lightning.
Recently, Odisha government has directed large-scale plantation of palm trees which is considered bulwark against lightning casualties. As per experts, lightning usually strikes the tallest object first and the palm tree being the tallest among other trees in its surroundings works as a lightning conductor.