By Nageshwar Patnaik in Bhubaneswar, September 28, 2023: Mankombu Sambasivan Swaminathan, a renowned agricultural scientist who revolutionised India's farming and was a key architect of the country's "Green Revolution", is no more. Swaminathan, 98, died due to age-related illness on Thursday at his home in the southern city of Chennai after an illustrious academic career that garnered him 84 honorary doctorates from some of the world's top universities.
Swaminathan had a strong association with Odisha over the past three decades. After completing his PhD from Cambridge University, Swaminathan had first joined the Cuttack-based Central Rice Research Centre, a unit of the Indian Council of Agricultural Research (ICAR) in early 1954. There were no jobs in his specialisation and it was only three months later that he received an opportunity through a former professor to work temporarily as an assistant botanist at Central Rice Research Institute in Cuttack.
At Cuttack, he was under an indica-japonica rice hybridisation program started by Krishnaswami Ramiah. This stint would go on to influence his future work with wheat. Half a year later he joined Indian Agricultural Research Institute (IARI) in New Delhi in October 1954 as an assistant cytogeneticist. Swaminathan was critical of India importing food grains when seventy percent of India was dependent on agriculture. Further drought and famine-like situations were developing in the country.
Swaminathan and Noble Prize winner Norman Borlaug collaborated, with Borlaug touring India and sending supplies for a range of Mexican dwarf varieties of wheat, which were to be bred with Japanese varieties. Initial testing in an experimental plot showed good results. The crop was high-yield, good quality, and disease free. The new wheat varieties were sown and in 1968 production went to 17 million tonnes, 5 million tonnes more than the last harvest.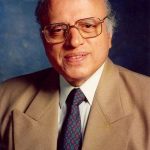 The varieties of wheat and rice developed by Swaminathan and Borlaug were foundational to the green revolution that made India self sufficient in food grains. Jagdiosh Pradhan, who worked closely with Swaminathan as one of the eight members of the National Farmers Commission in 2004-06 says, "As the father of the green revolution in India he will be remembered for ever but after achieving the minimum self sufficiency in food grains he was out and out for the ever green revolution where the agriculture has to be eco friendly and sustainable. While our policy makers were working for food security he influenced them to go for nutrition security. He was also associated with a number of scientific bodies at international level holding key positions. As the chairman of the National Commission on Farmers (2004-6) he led the commission to come out with six volumes of reports which will guide our policy makers for years to come.
His organisation, the M S Swaminathan Research Foundation (MSSRF), has actively worked in Koraput district's Jeypore region. MSSRF's regional centre, the Biju Patnaik Tribal Agrobiodiversity Centre (BPTAbC) at Jeypore, helps tribal farmers protect their intellectual property rights. Swaminathan had last visited BPTAbC in 2011.
Swaminathan also worked in mangrove restoration and preservation of coastal land in Kendrapara district of Odisha for around 12 years since 1994.
Chief Minister Naveen Patnaik also recalled his association with Odisha, saying that Dr Swaminathan started his early days of research in the state and was always available to help its farmers in every possible manner. "His foundation is closely associated in improving farming activities in tribal areas of Odisha. His death created a huge void in the field of agricultural science," said Patnaik.
Jeypore was once known to be the home of the largest number of rice varieties in India, which were vanishing fast. Concerned about this, the MSSRF undertook research in 1998 to improve the condition of farmers while revitalising the vanishing rice varieties.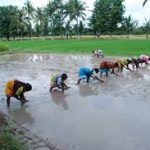 The MSSRF has also been working on conservation of biodiversity, promotion of sustainable livelihoods through micro-level interventions, and establishment of community-managed gene, seed, grain and water banks. The organisation has also been instrumental in promoting genetic literacy and documentation of local conservation traditions.
The foundation also supported women tribal farmers in forming self help groups and taking up activities like water resource management, wasteland reclamation and marketing of kala jeera, a specialty rice.
The state government has provided 5 hectares of land to MSSRF for establishment of the BPTAbC, to research the vast medicinal plant resources in the region. The centre established an ex-situ (conservation of biodiversity outside their natural habitat) conservation centre of medicinal plants of major tribes in the regions, including Paroja, Bonda, Kandha, Koya, Saura, Gond, Gadaba, Bhumia and Bhatra. Specific land patches were assigned to every community to cultivate plants they use for healthcare needs.