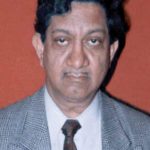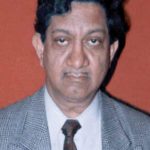 By Vivek Pattanayak in Bhubaneswar, September 27, 2023: In the fifties of the last century there were two teachers of Physics in the Ravenshaw College, Cuttack who were also known for their prominence in the disciplines outside their own domain, one for his conspicuousness in cricket and other for his proclivity for poetry.
One was Sasank Patnaik known as an outstanding opening batsman playing for Odisha then known as Orissa in Ranji Trophy who passed away almost forty years ago tragically on the day his daughter was getting married. Other was Jayanta Mahapatra whose contributions to the English poetry earned him fame not only in Odisha but also throughout India and beyond. He left for heavenly abode at the age of ninety-five only a few days ago equally in tragic ambience of being lonely and forlorn. His graceful and dignified wife and only son had left the mundane world earlier.
Apart from getting Sahitya Academy award for English, perhaps first in the country, he also received highly prestigious Padma award. His name also like that of Sitakanta Mahapatra and Ramakanta Rath, eminent poets of Odisha was mentioned in many reviews in media as probable candidate for Nobel Prize.
While I was a direct student of Sasank Patnaik, and played along with him in the College level cricket, I was a colleague of Jayant Mahapatra during my brief teaching career in BJB College. I was teaching Political Science in the Evening Faculty and he was a senior teaching staff in the Physics department. We used to meet each other while performing invigilation duties during the final university examination. In a short period, I realized his majestic vision of humanity.
Being every bit human, he stood out as a colossus before all the people in his profession of his time in integrity, probity, universality, and magnanimity. He was born a Christian. In true sense of the word, he was every inch a catholic in his outlook. He was the symbol of secular thinking. Boldness in articulation was his inalienable virtue. Humanism was visible in every action of his. His humility was oozing out of each aspect of his noble personality.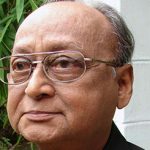 I met him after a long gap of more than a half century in a gathering of poets, artists, and dramatists in the presence of JP Das and Ananta Mohapatra in Bhartiya Vidya Bhawan. He was already a celebrity. What surprised me most was that he recognized me instantly after so many years. That was his greatness.
Such was his character that it was no surprise when he decided to surrender his prestigious Padma award as a silent protest against the easily observable inability of the legally constituted state to prevent stark decline of traditional multiculturalism and more particularly religious tolerance in the country. It was reminiscent of Jean Paul Sartre's refusal to accept Nobel Prize and Bertrand Russel's abdication of the Labor party as a protest against the British support of the infamous Vietnam War.
Had he been a denizen of America or Europe he would have received global publicity for his strength of character.
The Indian society should be proud of such people who leave behind indelible mark as human beings. For generations he will be remembered in Cuttack, the ancient city of Odisha as a simple and pious person. Young will get inspiration from his impeccable career.