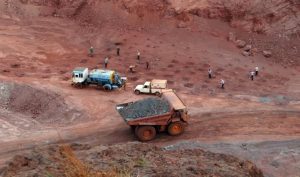 By Bizodisha Bureau, Bhubaneswar, August 15, 2023: Odisha is likely to face a cap the yearly quantity of iron-ore mining in Odisha, on the lines of restrictions imposed in Goa and Karnataka.
The Supreme Court on Monday asked the Union government to consider the need to cap in the iron ore rich state as it was alarmed by an estimate that the mineral rich state's iron ore reserves may be emptied in 20 years.
Odisha had awarded 58 leases for iron ore mining and the yearly production was 227 million tonne as against an estimated iron ore reserve of 4,748 million tone going by the data placed before a bench of Chief Justice D Y Chandrachud, Justices J B Pardiwala and Manoj Misra. Given the annual rate of extraction, the iron ore reserves may get exhausted in 20 years, said advocate Prashant Bhushan.
Though Odisha government's counsel, senior advocate Rakesh Dwivedi, said quantification of the total reserves keeps increasing every year with discovery of new reserves and that at present it stands at 9,220 million tonne, the bench asked Union government to consider the rate of annual iron ore mining as against estimated reserves and report back to court in eight weeks to apprise whether an annual cap on iron ore mineral extraction be placed on Odisha.
Presenting the state's status report on iron ore mining and recovery of dues from lease holders, Dwivedi informed the court that at present Rs 2,622 crore principal amount is due from the mining lease holders, of which Rs 2,215 crore is payable by five of them.
Bhushan said the state has so far collected nearly Rs 20,000 crore from the sale of iron ore minerals allegedly extracted unauthorisedly from the mines and the amount was to be used for welfare of the tribal community. The state has approved expenditure of Rs 8,000 crore and of which only Rs 6,000 crore has been spent. The state should provide a mechanism for spending these amounts on tribal communities, he requested. SC said it will consider this during the next hearing.