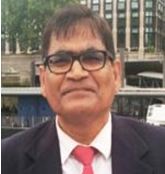 By Satya Narayan Misra in Bhubaneswar, May 5, 2023: When BBC interviewed Dickie Bird on the secrets of his good health at 90, this month, he said: 'It's the laps that I take around the local football ground, short sprints and general exercise. They occupy my brain.' He hopes to live up to 95, even score a century, if he keeps the routine.
He was a much loved figure amongst players and viewing public, due to his excellence as an umpire but also for his many eccentricities. By common consent, he is the greatest living umpire; whose quality of decision and the respect that he earned from all the teams remain unrivalled. Son of a coal miner, he failed in his 11+examination and worked for a coal mine, which was not his cup of tea.
He crossed over as a batsman for Yorkshire and played till 1970 before a knee injury forced him to become an umpire. He has the rare distinction of umpiring three WC finals, including the inaugural one in 1975 & in 1983, when India unexpectedly purloined the Cup from the grasp of the West Indians & denied them a hat trick.
His Autobiography (1997), which sold a million copies, gives a riveting account of his experience of the three world cups, how he could contain intimidating bowling and his dream World Cup squad. The first WC final of 1975 started at 11 AM and ended at five to nine, when it was pitch dark. Clive Lloyd scored a century off 82 balls against real fast bowling of Lillie & Thomson. Tommy Spencer, the co-umpire, took a nasty blow on the shin from a Doug Walters drive, which required a patch up by the doctor.
There were five run outs, when Australia chased, including three by Viv Richards. But the funniest part was a pitch invasion followed WI victory when Thomson lost his bat, Boyce his boots & Dickie his cap. John Arlott commentated: The whole ground is seething with West Indian delight. Serendipitously he retrieved the cap a year later from a conductor, while travelling in a bus!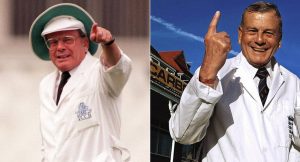 He recounts how Kapil Dev told him after Haynes got out: Do you know, Dickie, we will win after all. Dickie did not believe. How prophetic Kapil was when he caught Viv's hook running back at mid-off, judging it to perfection & held aloft the World Cup in 1983! Dickie played a stellar role in containing intimidating bowling when a pace quartet of West Indies were firing on all cylinders.
When Marshall bowled six short pitched balls in two overs in the Manchester Test against England in 1984, he no balled him and gave an official warning. Marshall petulantly kicked the ball to the boundary. He called Malcolm and said: While I am having a word with your captain, fetch the ball back. Marshall duly retrieved and bowled good length thereafter, with a five wicket reward.
Marshall thanked him later: 'It did a lot of good, Dickie. He showed the same firmness against Sarfraz Nawaz of Pakistan, Dennis Lillie and Merv Hughes of Australia when they were overdoing short pitched balls & also using abusive language. Clive Lloyd once said: When Dickie has applied the law we have accepted it. He is consistent in its application and we respect him for it.
In his dream World Cup squad Barry Richards opens along with Sunil Gavaskar. He rates Barry Richards as the best batsman he has seen. Barry made 325 not out in a day against West Australia. Gavaskar is preferred over Boycott, as he is a magnificent player off both front and back foot and capable of playing magnificent shots all-round the wicket.
He picks up Viv Richards & Greg Chappell as 3&4, as they could hit the ball through mid-wicket like a bullet out of a gun even when it was pitched eighteen inches out of the off stump. He considers Graeme Pollock at number five; as the best left handed batsman he had seen including Gower & Lara. Bradman had also considered Pollock as the best player he had seen.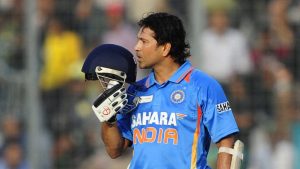 Interestingly he considers Sachin as a better batsman than Lara. He revels about the 86 he made against Marshall, Garner, Holding & Walsh in a one day international at Sharjah. He made a prognostication that Sachin will outscore Lara when their careers have finished. He could not have been more prescient. Sobers selects himself as an all-rounder. When he goes West Indies, Garfield Sobers is the first person to call him and suggest a meal and a drink. 'Money cannot buy that kind of friendship & mutual respect', Dickie writes.
He picks up Alan Knott as the best wicket keeper and chooses Lance Gibbs & Abdul Qadir as his spinning duo. He prefers Qadir over Warne as he could bowl leg spin, googly, topspin, flipper, all with an impeccable line & length. As regards his fast bowlers, he picks up Dennis Lillie, Holding & Hadlee.
About Lillie he writes: He had a beautiful approach to the wicket, stood up in his delivery stride, his left knee stiff as a poker; his follow through was perfection; and his action poetry in motion. On Hadlee he writes that he had a deceptively easy, graceful approach to the wicket, but bowled both out swinger and in swinger with devastating accuracy and pace. Michael Holding, as Whispering Death, would glide over the ground, smoothly and noiselessly, until the ball arrowed its way through the air at a frightening pace.
Though great contenders like Tendulkar, Lara, Warne, Akram & Marshall & Gilchrist are missing from the list, Dickie shows exceptional insight & objectivity in picking up a World Squad. Dickie is a bachelor who is married to cricket. He was besotted with the Queen, met her 29 times. Typical of his eccentricity he was outside the palace gate at 8 am for a lunch invite with the Queen at 1pm!
For his last test as an umpire in 1996 at Lords he was given a guard of honor by the players of India and England. His eyes were moist with emotion. But that did not deter him from judging Mike Atherton LBW in the first over. Don Bradman was not so lucky. In his last match at Oval in 1948, he was bowled by Eric Hollies for a blob in the second ball. Ostensibly Don was overwhelmed by the occasion and moist eyes could not pick up the googly!
Dickie was the Don of cricket umpiring. A statue was built in his honor in his hometown Barnsley, England in 2009. It was subsequently raised by five feet, to discourage late night revelers from hanging inappropriate items on his famous finger! His finger was dreaded; more so because he hardly judged anyone LBW. Frank Chester, who umpired from 1924-55 was considered the greatest umpire.
The accolade now belongs to him. Simon Taufel who was the adjudged the best umpire from 2004-08 comes closest to Dickie. But Dickie as a character is unrivalled. Even at ninety, he holds a candle, in terms of his fitness, fairness & firmness that marks him out as a living legend, transcending borders.
Satya Misra is a Cricket analyst