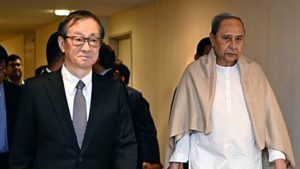 By Bizodisha Bureau, Bhubaneswar, April 7, 2023: The Opposition BJP in Odisha on Friday launched a scathing attack on Chief Minister Naveen Patnaik over his Japan tour and sought clarifications from the state government on the proposed steel facilities by Nippon Steel Corporation in the state.
Alleging that the visit of a state government delegation, led by Patnaik, to the east Asian country, is aimed at holidaying, BJP spokesperson Satyabrata Panda said, "Though Patnaik has gone on a weeklong trip to Japan, the programme is actually for 5/6 hours. The rest of the time is spent on holidaying".
Referring to the state government's claim that Nippon Steel has agreed to set up the world's largest steel plant with a production capacity of 30 million tonne per annum (MTPA) in Odisha, the BJP leader said, "The government needs to clarify whether it is the old agreement for setting up a 24mtpa steel mill at Kendrapara and 7 mtpa facility in Jagatsinghpur."
Panda pointed out that when Dharmendra Pradhan was the Steel Minister, he visited Japan and Nippon Steel Corporation in October 2022 following which the company delegation visited Odisha and discussed the Kendrapara project. "We seek clarification from the state government whether this 30 MTPA is a new project proposal or the one which was agreed upon in February 2020. The chief minister must clarify as we suspect that it is just like having a new cover on an old book," Panda said.
The BJP leader also sought clarification from the state government as to why ArcelorMittal withdrew from its proposed Rs 50,000 crore steel mill project in Keonjhar.
The company signed MoU with the state government in 2006 and withdrew its project in 2013.
Earlier, Leader of Opposition in the Odisha Assembly Jaynarayan Mishra and a BJP MLA Mukesh Mahaling had slammed the Chief Minister over his Japan visit. The BJP had also criticised the state government over the manner in which the budget session of the Assembly was cut short and adjourned sine die ahead of Patnaik's Japan visit. The BJP had then given a call– 'Japan Chada, Kotia Chala' (give up Japan, visit Kotia).
BJD MLA and senior leader Prafulla Samal, however, rejected the allegation of the opposition parties and said that the state has received investment intents of Rs 26,000 crore in the middle of the CM'S Japan visit.
He claimed that Patnaik's Japan visit will be "highly successful".