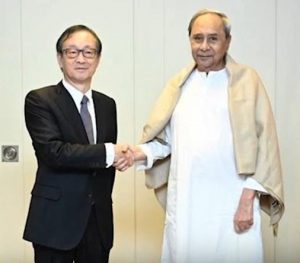 By Bizodisha Bureau, Bhubaneswar, April 6, 2023: The mineral rich Odisha has received investment intents of Rs 26,000 crore during a business meeting in Tokyo on Wednesday.
The intents were received from sectors such as logistics, metal ancillary, steel, metal downstream, green hydrogen and green ammonia, green energy equipment manufacturing, IT and IT-enabled services, an official statement said. Details of the company, who have evinced interest to invest in Odisha has not been shared.
Addressing over 200 investors in Japan, Patnaik said Odisha is one of the fastest growing economies in India and has consistently grown above the national average in the last decade and a half.
"We are fast emerging as a major industrial destination in India because of our natural resource advantage and strategic location. Odisha's abundant natural resources, skilled human resources, policies and strong governance provide a unique ecosystem," said the CM.
Showcasing the measures taken by the state government to support industries looking to cater to the untapped markets in eastern and northeastern India, as well as markets in the ASEAN and East Asia regions, Naveen said, "As we enter into a new era of industrialization propelled by advancements in technology and a philosophy of sustainability, we require a collaborative effort between the governments, industries and people to ensure consistent growth".
The CM said Odisha, known for its rich culture and tradition, is transforming into a modern industrial hub.
"While my government is focused on providing the best-in-class facilitation to all investors coming to Odisha, we are also deeply committed to protecting our rich cultural history," he said.
The chief minister said renovation and restoration of Buddhist pilgrimage sites have been a key agenda of his Government.
"I am happy to say that we are transforming sites like Dhauli, Udaygiri, Ratnagiri and Lalitgiri. I request all my Japanese friends to visit Odisha and experience the change. Come, Invest in Odisha, Invest in the future. Come, Join the Juggernaut," he said.