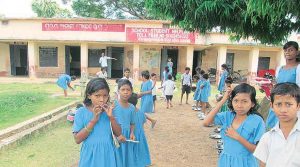 By Bizodisha Bureau, Bhubaneswar, April 11, 2023: Odisha on Tuesday announced shutting down of all schools up to Standard X in the State for five days from April 12, in the wake of the sudden rise in daytime temperature.
"For the past few days, the temperature has been rising in the State and the Meteorological Department has also issued heat wave warning throughout the State. Chief Minister Naveen Patnaik directed that anganwadis and all schools (both government and private) up to Standard X will remain closed from April 12 till April 16," the Odisha government said in a statement.
The announcement came on a day when the daytime temperature soared past 40 degree Celsius at nine places. All District Collectors have been asked to stay prepared for the heat wave conditions, which are likely to prevail in districts such as Sundargarh, Keonjhar, Mayurbhanj, Balasore, Jharsuguda, Sambalpur, Deogarh, Angul and Boudh.
Departments such as the Panchayati Raj and Drinking Water, Housing and Urban Development and Energy have been directed to start preparedness to meet any exigency.
Authorities were directed to ensure the smooth supply of drinking water in both urban and rural areas, with special focus on water scarcity pockets. Besides, the Energy department has been asked to ensure uninterrupted power supply to meet the demands during heat wave conditions.
While reviewing various activities of the Health and Family Welfare department, the Odisha CM expressed satisfaction over the functioning of the Biju Swasthya Kalyan Yojana, which provides free healthcare facilities to nearly three and half crore people of Odisha.