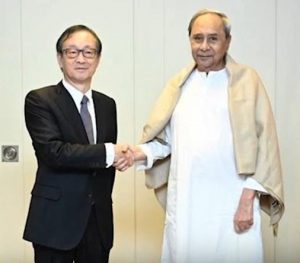 By Bizodisha Bureau, Bhubaneswar, April 5, 2023: President of Nippon Steel Corporation (NSC) Eiji Hashimoto on Wednesday announced to set up the world's largest and most modern steel plant in Odisha during a meeting with Chief Minister Naveen Patnaik at Tokyo.
"Our sole intention is to set up the largest and modern steel plant in Odisha. We want to build a steel plant with a production capacity of 30 million ton per annum (MTPA). Now, globally 20 MTPA steel plant is the largest," he told the high-level delegation.
The Chief Minister, on a week-long visit to Japan, discussed with Hashimoto about the avenues of collaboration between NSC and the state government. He also invited the NSC president and his team to visit the mineral rich state. He said the projects of the company that are in the pipeline will be beneficial for a large number of people in the state.
"The 30 MTPA greenfield project that the company intends to set up in Odisha will be beneficial for a large number of people in Kendrapara, Jagatsinghpur, Keonjhar, Jajpur and Bhadrak districts," Naveen said. In 2021, the AMNS India, a joint venture of Arcelor Mittal and Nippon Steel, had inked a pact with the state government for a 12 MTPA integrated steel plant with an investment of Rs 50,000 crore in Kendrapara district. The JV has also got the clearance for another 7 MTPA steel plant with an investment of Rs 38,000 crore in Jagatsinghpur district.
After his arrival in Tokyo along with a high-level official and business delegation, Naveen expressed his confidence that the visit would further strengthen the relationship between Japan and Odisha and provide an opportunity for both sides to explore avenues of mutual interest.
He also conveyed his appreciation for the warmth and hospitality extended by the Japanese government and people to the delegation. He expressed his hope that the visit would contribute to strengthening the cultural ties between the two nations.
The visit of the chief minister and the state delegation to Japan is a significant step towards promoting Odisha as a preferred investment destination and fostering closer ties between Japan and Odisha, a statement issued by the CMO said.
On Wednesday, the state government will be hosting the Odisha Business Meet 2023 at The Okura Tokyo which is expected to be attended by over 200 industrialists, business leaders and investors from across Japan and the Indo-Pacific region. The chief minister will address the investors and showcase the vast existing and emerging business opportunities in Odisha.
In the evening, he will hold an interactive meeting with the Odia diaspora. The state delegation will make a factory visit to the Kimitsu Steel Works and the research and development centre of Nippon Steel Corporation, on Thursday.