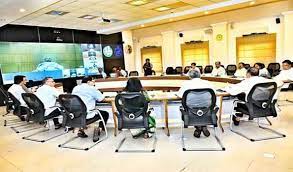 By Bizodisha Bureau, Bhubaneswar, April 09, 2023: Odisha Chief Minister Naveen Patnaik on Sunday conducted a cabinet meeting online from Japan. This was his first cabinet meeting held from a foreign location.
Mr Patnaik, who is on a visit to the East Asian nation to attract investments to Odisha, presided over the cabinet meeting through the virtual mode from Kyoto, around 6,000 km from state capital Bhubaneswar.
His cabinet colleagues also took part in the meeting separately through virtual mode. They held threadbare discussions and files were processed and documents signed online through the Odisha State Wide Area Network (OSWAN), a CMO statement said.
"We have been a pioneer in leveraging the latest technology as part of our 5T charter to improve the effectiveness of the governance systems and delivery of public services. Technology has served as an enabling tool in transforming the delivery of good governance and public goods and services," Mr Patnaik was quoted as saying in the statement.
This digital cabinet pushes the boundary of technology and speed of governance, he said.
OSWAN can facilitate data transfer and inter and intra-departmental communication. The innovative platform enables government officials to collaborate on documents, share feedback, and track changes in real-time, making it easier to work together on projects and initiatives, the statement added.