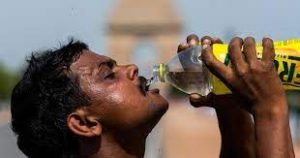 By Bizodisha Bureau, Bhubaneswar, April 19, 2023: Odisha currently reeling under heat wave conditions may get relief by Friday with rain and thunderstorm activities expected to commence over the southern districts of Odisha.
Presently, temperatures are in excess of 43 and 44 degrees. Baripada recorded 44.2 degrees which is 6 degrees above normal. Similarly, Chandbali saw 41 degrees, Keonjhargarh 41 degrees, Jharsuguda 44.2 degrees, Sambalpur 43 degrees, Bhubaneswar recorded 42.7 degrees.
These above-normal temperatures can be attributed to continuous dry weather with bright sunshine and dry and hot winds blowing from the northwest direction.
The situation is going to change from April 21 as rain and thunderstorm activities are expected to commence over the southern districts of Odisha. Places like Bolangir, Baripada, Gajapati, Ganjam and Koraput may witness light rain and thunderstorm on evening of April 20.
The north south trough which is at present extending from Vidarbha to interior Karnataka will gradually shift towards the east leading to rain activities over East India. Rain and thundershower activities will increase and may cover many parts by April 22nd.
There may be isolated heavy spells over southern parts of Odisha on April 23rd and 24, according to Skymet Weather Team. These pre monsoon thundershowers will certainly cool down the temperatures and there will be some relief from ongoing hot weather conditions. East coast of the country right from Gangetic West Bengal to coastal Tamil Nadu including coastal Odisha, coastal Andhra Pradesh usually witness intense heat during pre-monsoon season.