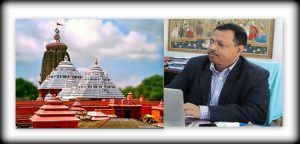 By Bizodisha Bureau, Bhubaneswar, March 26, 2023: Senior IAS officer Pradeep Kumar Jena will be the new chief secretary of Odisha according to an official notification issued on Sunday.
Jena, a 1989-batch officer, presently is the development commissioner and special relief commissioner of the state in his last assignment.
He will take charge on March 1, replacing SC Mohapatra, whose tenure is ending on February 28.
Anu Garg, a 1991-batch IAS officer, was named the next development commissioner. She will continue to hold the additional charge of the Water Resources Department as an additional chief secretary.
Mohapatra, who was to retire last year, was given two extensions for six months each with Jena waiting for his turn.
Jena is scheduled to remain at the top post till December.
Born on January 1, 1964, Jena began his career as the sub-collector of Dharmgarh in Kalahandi district in 1991. He also served as the collector of the coastal Kendrapara district before being appointed the district magistrate-cum-collector of Cuttack.
Jena earned laurels from both the state government and the Centre for efficiently handling the Super Cyclone in 1999 as the collector of Cuttack.
As the director of Agriculture and Watershed Development, he was able to create an impact among farmers. He was the youngest officer to head the twin revenue-generating bodies of Commercial Tax Commissionerate and State Transport Authority, when Odisha was facing a financial crisis in the early 2000s.
He also served at the United Nations Development Programme (UNDP), helping the state government in formulating a progressive resettlement and rehabilitation policy.
Jena served as the principal secretary in the departments of Energy, Panchayati Raj and Water Resources. He also served as the chief administrator of the Shree Jagannath Temple Administration (SJTA).
As the special relief commissioner (SRC), Jena dealt with several cyclonic storms. His role during the pandemic was appreciated by Chief Minister Naveen Patnaik.
In a separate notification, the government named SC Mohapatra as the chairperson of the Odisha Electricity Regulatory Commission (OERC).