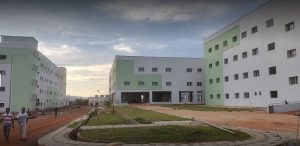 By Bizodisha Bureau, Bhubaneswar, February 13, 2023: Odisha Chief Minister Naveen Patnaik on Monday inaugurated a new medical college and hospital in Keonjhar district. The inauguration of the medical college and hospital is a significant step in providing quality healthcare services to the people of the region.
The medical college has been named after the noted tribal freedom fighter Dharanidhar, and it is expected to provide advanced healthcare services to the people of the district.
The Chief Minister also launched and laid the foundation stone of developmental projects worth Rs 4,703 crore, including a cancer center, a nursing college, and a sports complex.
The Dharanidhar Medical College and Hospital is spread over an area of 44 acres and has been built at a cost of Rs 480 crore. The medical college currently has 22 departments with 55 faculty members and 28 senior residents and tutors.
The first batch of 100 students from across India has already enrolled for the 2022-23 academic session. The Chief Minister said that the people of the district will no longer have to travel to Bhubaneswar or Cuttack for treatment with the inauguration of this medical facility.
In addition to the medical college, Naveen also inaugurated the Dharanidhar Sports Complex. The complex has a natural turf football ground, a 400-metre synthetic track equipped with LED floodlights, and a 1,000-people gallery.
An archery arena has also been developed, and the complex has an indoor hall with six badminton courts and a 200-bed residential facility. The campus has been developed at a cost of over Rs 35 crore.
The Chief Minister also handed over financial assistance of Rs 378 crore in the form of interest-free loans to 14,372 women self-help groups (SHGs) under Mission Shakti in the district.
Of the 259 projects worth Rs 4,703 crore, the Chief Minister inaugurated 98 projects built at the cost of Rs 868 crore and laid the foundation stone of 138 projects estimated to cost around Rs 1,103 crore. He also announced 23 other projects worth Rs 2,731 crore.