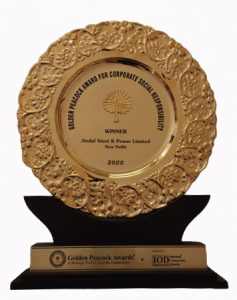 By Bizodisha Bureau, Bhubaneswar, January 13, 2023: Leading steelmaker Jindal Steel & Power (JSP) for second time bagged the prestigious Golden Peacock Award 2022 for its excellence in Corporate Social Responsibility activities in the Steel Sector from the Institute of Directors (IOD).
JSP has bagged the coveted award for its holistic Corporate Social Responsibilities activities. Through its CSR arm JSP Foundation, JSP has impacted the lives of about one crore people with various social development initiatives in partnership with the local community and Government. With a holistic 360-degree strategy, the company ensures that the key principles of sustainability, social, and ecological resilience are integrated across all its programmes.
The CSR programmes implemented by JSP Foundation during COVID-19 Pandemic – from supply of liquid medical oxygen across the Country to Mission Zero Hunger to feed the socially vulnerable – have been appreciated and applauded by the Civic Society, Government and People at large.
On behalf of the Company, JSP President and Group Head (CSR) Prashant Kumar Hota received the honour from Union Minister of State Law & Justice Prof. S.P. Singh Baghel on January 12, 2022 during 17th International Conference on CSR held at Mumbai. Institute of Directors (IOD)'s President Surinder Nath and Principal Advisor Desh Deepak Verma, were present on the occasion.
JSP Foundation, led by Mrs Shallu Jindal is striving its best to improve the quality of life of the community around its operational areas and beyond. The steelmaker was selected by the Award Jury headed by Former Chief Justice of India Shri M.N. Venkatachaliah.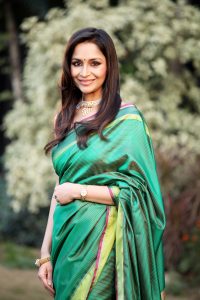 Thanking the Jury and IOD, Mrs Jindal said, "This prestigious award make us more responsible and more accountable to the People at large and for the sustainable improvement in the Quality of life of the Community, mainly the socially vulnerable and the underprivileged across our Country. We are now aligned to 16 out of 17 UN Sustainable Development Goals (UNSDG) and are already accelerating our programmes under all social development verticals to improve the Human Development Index (HDI) in India".
JSP has been honoured with various other prestigious awards for its high impact CSR activities. The Company has been recently declared as Winner of the National CSR Award by the Ministry of Corporate Affair, Govt of India 2020 in two categories.
Recently the company was presented with FICCI CSR Award for Fight against COVID-19, Odisha CSR Excellence Award, India CSR Award and various others.