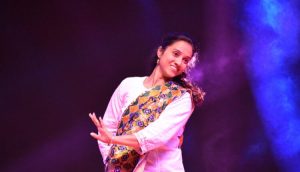 By Bizodisha Bureau, Bhubaneswar, January 16, 2023: The district collector of Odisha's Subarnapur Aboli Naravane on Sunday stunned one and all by staging Kathak dance during a local cultural programme with the theme to prevent child marriage.
The IAS officer, Aboli Naravane, incorporated a popular Hindi song that talks about prevention of violence against women and minor girls – into her performance to convey the message and won hearts with dance moves at Sonepur Lok Mahotsav. The Civil Servant is a dance and fitness enthusiast.
The three-minute 'impromptu performance' focused on making the audience, who were mostly villagers, aware of how vital it is to educate the girl child, instead of marrying them off at a minor stage.
According to the National Family Health Survey (NFHS)-4 conducted in 2015-16, the rate of child marriage among girls in Odisha was 21.3% and 22.2% in Subarnapur. In the NFHS-5 survey conducted in 2019-21, the child marriage rate among girls in Odisha and in Subarnapur dropped to 20.5% and 16.9%, respectively.