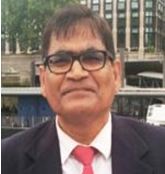 By Satya Narayan Misra* in Bhubaneswar, September 26, 2022: As Roger bid farewell at London's O2 Arena on Friday evening, footage of him as a ball boy has gone viral. 'I guess I am a ball boy because at heart I am going to be a ball boy. Between 1993-95, I saw the best players first-hand, how they prepare, sweat, and deal with pressure.'
He is one of the rare champions, who have a pizza with ball boys & girls at the end of the game. The scene on Friday evening was fit for the stars above to watch. When Federer entered the arena, a step behind Nadal, a tempest of emotions blew across the Greenwich peninsula. Djokovic urged Roger Nadal as partners to attack more against the Americans and egged on both the teams to loft the King, and the Swiss covering the Spaniard's (Nadal) hand with his to console, or to be consoled was indeed an incredible scene.
The greatest troika in tennis (Roger, Nadal & Djokovic) of all time was cheered relentlessly by ice-cool Borg & ups in the stands the two-time made crying an acceptable expression on the tennis court. The result did not matter, the moment, nostalgia, and gravitas did.
Was Roger the GOAT (Greatest of all time)? With 20 Grand slams and ranked No 1 for 305 weeks, the highest ever hard-court match wins (87.6%), 87% in grass courts, not all statistics fall in Federer's favor. It is the style that Roger plays those pips him above everyone. David Wallace writes that watching Federer play tennis is akin to a religious experience.
The kinetic beauty of Federer is 'deceptively effortless, eel-like movement'. His greatest rival Nadal plays tennis as though he is sculpting his points on granite, his legs thundering around the court and his biceps pumping like pneumatic pistons as he produces angular contortions. Fed, on the other hand, wields his racquet like a paintbrush, soundlessly floating across the court and producing subtly ferocious power and guile from his lissom body.
His court movement was akin to the gazelle-like grace of Steffi Graff.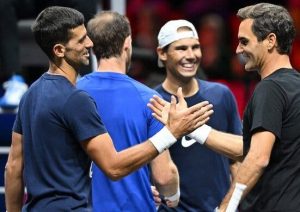 Since 1998, the dominant style of play of Federer has moved on from serve and volley to baseline play and the court speed had slowed, there are several Federer moments when the jaw drops, and eyes protrude, and such sounds are made that bring spouses in from other rooms. Federer's forehand is a great liquid whip, his backhander a one-hander that he can drive flat, with topspin or slice. His one-handers were such a contrast to Nadal's double-handed thunderbolts.
Yet the King had feet of clay in many close matches. During 2005-2019, he reached the finals of 18 grand slams and lost six. Three finals come to mind he possibly felt the pressure in close matches The first was the five-setter in the Wimbledon final in 2008 epic final, when he lost to Nadal 6-4, 6-4, 6-7, 6-7,9-7. After 4 hours and 48 minutes of play, considered the greatest tennis match ever played by the cognoscenti.
This was despite Federer having a slightly higher % point on serve than Nadal. Federer by common consent is invincible in grass curt & Nadal in clay courts. Federer lost as he lost out on important points, possibly a case of nerve when clay became easier to trundle than grass!
Again, in US Open 2009 final he inexplicably lost Dol Petro. He was the first to succumb to a mini break. In the Wimbledon final (2019), he lost to Djokovic, though he had an advantage in serving 69% to 64% of Novak. The kinetic beauty became the victim of closing moments Roger Federer had that indescribable charm that made his arch-rivals cry, even in victory.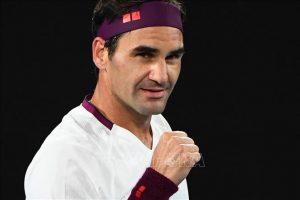 His inspiration has been contagious and his dignified demeanor makes him a role model. Comparing the football legend Pele, Wallace writes: "If Federer had not been born a man, he would have been born as a ball. His very existence seems embedded in the sport of tennis."
Ellie Golding sang:
No one can lift me,
Catch me the way that you do,
I am still falling for you.
If Federer cried hard, Nadal cried harder. Nadal said: 'On the court, we have completely opposite styles, that's what makes our rivalry so interesting. However, We approach life, not in very different ways. '. They were both ball boys at heart, to sweat, learn and deal with pressure.
Above all, they never allowed their personal rivalry to cloud their immense respect, affection, and adulation for each. The debate about who is the GOAT possibly did not trouble them.
• Prof Misra is a tennis aficionado.