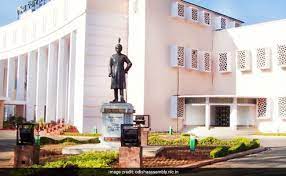 By Bizodisha Bureau, Bhubaneswar, August 3, 2022: The monsoon session of Odisha Assembly was on Monday adjourned sine die, three days ahead of the schedule.
The session, which was held in two phases, was scheduled to be continued till August 4.
The monsoon session began on July 2 with the presentation of the annual budget by Finance Minister Niranjan Pujari. The appropriation bill on the budget for 2022-23 was passed on July 30.
A total of eight official bills were introduced during the session while seven bills were passed and the house debated the admissibility of 11 adjournment motions.
During the session, the house witnessed uproarious scenes over several important issues.
The Rashtra Patni remark of Congress leader Adhi Ranjan Choudhury, the summon of Congress President Sonia Gandhi by Enforcement Directorates in the National Herald case, the Supreme Court observation on BJP Spokesperson Nupur Sharma and the death of a girl student in BJB Autonomous College, Bhubaneswar allegedly due to ragging rocked the monsoon session of the Assembly disrupting the business.