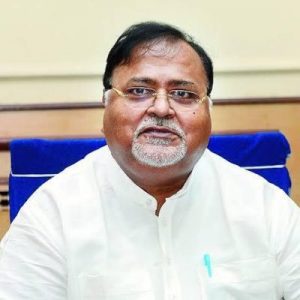 By Bizodisha Bureau, Bhubaneswar, July 24, 2022: West Bengal minister Partha Chatterjee, who was arrested after over 20 hours of questioning on Saturday over alleged discrepancies in recruitments for schools, would be taken to an Odisha hospital in an air ambulance for a medical check-up on Monday, the High Court has directed the Enforcement Directorate.
Chatterjee and his aide – Arpita Mukherjee – have been arrested in the alleged school jobs scam. The central probe agency had said that over ₹21 crore were recovered from Mukherjee's home on Friday in raids.
In response to a petition filed by the central probe agency, the single bench of Justice Bibek Chaudhuri ordered on Sunday night that Chatterjee must be taken to AIIMS, Bhubaneswar, on Monday morning in an air ambulance for medical check-up and flown back for court production the same day.
"AIIMS, Bhubaneswar authority is directed to medically examine the accused by a team of specialist doctors of cardiology, nephrology, respiratory medicines and endocrinology," said the court order, adding that a medical report must be handed to the ED's investigation officer by 3 pm so that Chatterjee can be flown back and produced before the special ED court in court in Kolkata on Monday.
The central agency had challenged a lower court order, which had said that Chatterjee be taken to the state-run SSKM hospital. He was hospitalised soon after his arrest after complaining of uneasiness.
During the hearing, lawyers – representing the probe agency – claimed that Chatterjee, a senior minister in the state, is an influential person and as such should not be kept in a state-run hospital.
Meanwhile, amid heightened investigation, the Trinamool Congress on Saturday said that action would be taken against Partha if he was found guilty. The party also claimed that the central probe agencies were acting at the behest of rival BJP.
Mukherjee was sent to one-day remand on Sunday, a day after her arrest.