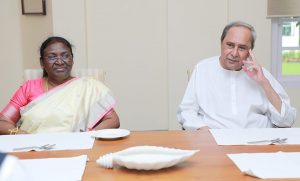 By Bizodisha Bureau, Bhubaneswar, July 28,2022: In a rare move, Odisha chief minister Naveen Patnaik on Thursday wrote an opposite editorial piece in several Odia newspapers describing President Droupadi Murmu's swearing-in day "the biggest moment for every Odia".
In a bid to portray his image as a pro-tribal and pro-women leader, Patnaik wrote that when Murmu began her oath with the words "I, Droupadi Murmu…", he felt it was the biggest moment for all Odias across the globe.
The editorial titled 'E matira kanya' (Daughter of this soil) published in several mainstream dailies.
"A daughter of Odisha's soil, a tribal girl, a mother and a sister was ascending to the highest Constitutional position of the country. I was lucky enough to be part of that golden moment in history. My presence in the central hall of the Parliament on behalf of four-and-a-half crore people of Odisha was a show of respect to the President," Patnaik wrote.
Evoking the great Kalinga king Kharavela, who ruled Odisha and many parts of northern, southern and western India in the 1st century BCE, and Gajapati king Kapilendra Dev, who ruled present day Odisha in the 14th century, Patnaik said Murmu becoming India's 15th President added one more glorious chapter to the history of the state.
"Murmu is the symbol of aspiration and hope of crores of women in our country. It's a historical moment for women empowerment in our country. But the biggest identity of Murmu is that she is an Odia woman," the editorial read.
Citing examples of his government's efforts to create a separate space for women in politics through reservation in panchayat polls and party tickets from his Biju Janata Dal (BJD) to seven women in the 2019 Lok Sabha polls, Naveen said that in the Indian society, the mother is always supreme, a symbol of creation and power.
"A society, family, state and country are strong only when that mother is strong. That is why I have always strived to promote mothers in every step of the society, and reach the top. Today, women are effectively performing the duties of chairpersons in 21 of our 30 district councils. In more than 50 per cent of panchayat samitis, gram panchayats, municipalities, women are being elected as mayors, chairpersons, vice-chairpersons, sarpanch, ward members, councilors and corporators. The biggest achievement is that today more than 70 lakh women have been involved in our Mission Shakti program and are getting empowered financially. My efforts to reserve 33 per cent seats for women in Parliament and assemblies are continuing," Patnaik wrote.

Stressing his efforts in development of tribal people, Patnaik wrote that he has devoted his 22 years as the CM to the upliftment the poor, neglected, women and backward sections of the society, especially the tribal brothers and sisters. Many programmes are underway to empower tribal children through education and bring them into the mainstream, he wrote.
The editorial comes less than a week after the BJD put up thousands of posters in Mayurbhanj district showing Murmu tying a 'rakhi' on Patnaik's wrist, indicating that he is like her brother. The party BJD early this month also went out of its way to woo Congress MLAs to vote for her in the presidential polls held last week.
With polls to Lok Sabha and state assembly due in less than two years, political analysts see BJD's aggressive promotion of Murmu's election as President as a strategy to counter the Bharatiya Janata Party's bid to draw a sizeable chunk of tribal votes. With Odisha, Chhattisgarh, West Bengal and Jharkhand having a large population of tribal people, the BJP hopes to capitalise on that in 2024 polls through Murmu, anaylsts believe.
In Odisha, where the tribal people constitute nearly 23% of the total population, the BJD and BJP have been trying hard to tap into the prized votes. Of the 35 tribal seats in the 147-member Odisha assembly, the BJP won 11 seats while the ruling BJD won 20 in the 2019 assembly polls. In the five Lok Sabha seats reserved for tribals, both parties won two seats each in 2019 general elections.