By Bizodisha Bureau, Bhubaneswar, May 05, 2022: Few hours ahead of the formation of a low-pressure area in the Andaman Sea, the Odisha government has geared up to face the eventuality of a cyclone coming in from the Bay of Bengal and instructed the district officials to be well prepared.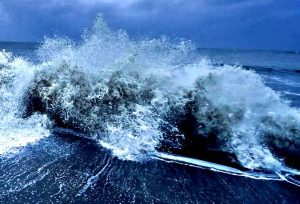 Odisha, which has faced the wrath of cyclones consecutively for the past few years, is most likely to witness a cyclonic storm in a couple of days.
The India Meteorological Department (IMD) has advised people to keep a watch on the weather conditions and accordingly move to a safer place if required.
The weather forecast department has apprised the state government that a low-pressure area is expected to form over the South Andaman Sea and its neighborhood by Friday (May 6) under the influence of cyclonic circulation. The system is very likely to intensify into a depression in the next 48 hours and move in the northwestward direction. The IMD also indicted that conditions are favorable for the formation of a storm next week.
Odisha Chief Secretary S C Mohapatra on Wednesday said, "The state is well prepared for the eventuality if any. District collectors have been informed about the possible calamity."
Umashankar Das, a senior scientist at IMD, today told news agency ANI, "Cyclonic circulation around Andaman sea will repeat tomorrow and move towards north-west. As per our estimate, wind speed now on would hover between 40-50 kmph, it will further increase May 8 onwards and can go up to 75 kmph." He added that once low-pressure forms, the weather department will know more towards which coast will the winds go.
The IMD Bhubaneshwar said thunderstorm with lightning and gusty surface wind speed reaching 30-40 kmph is likely to occur over some parts of districts such as Bhadrak, Jajpur, Cuttack, Nayagarh, Khorda (including Bhubaneswar), Ganjam, Gajapati, Nawarangpur, Kalahandi, and Deogarh on Thursday night.
The people of Odisha have witnessed successive cyclonic storms during summer for the last three years. They are Cyclone Yaas in 2021, Cyclone Amphan in 2020 and Cyclone Fani in 2019.
As the sea would be rough, the weather department has also issued warning for fishermen around Andaman sea area, east-central Bay of Bengal and south-east Bay of Bengal not to venture near coast for next five days commencing from May 5.