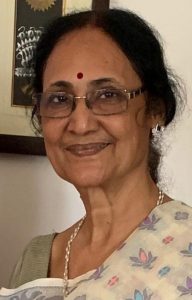 By Meera Panigrahi in Bhubaneswar, January 1, 2022: This book is written by Kusum Pant Joshi with a foreword by Lyn Innes, Emeritus Professor of post colonial literature, University of Kent and has been published by South Asian Cinema Foundation, London in 2021. The book contains 384 pages including index and notes. It is a well researched book containing pertinent illustrations and written in a warm effortless style to focus on colonial history and its determinants.
It exposes the caricatures of celebrities of South Asian and African origins in ' Vanity Fair' magazine which was a fashionable weekly when British Imperialism across the globe was at its height. We are led into noting how visiting celebrities from British colonies were represented by their imperial masters and how the subaltern reacted to the political, social and cultural assertions to which they were subjected.
Cartoons are an integral component in the framework of journalism. The writer has shown how Vanity Fair caricatures translate into a historical record of the socio-political and cultural climate and how they communicate the ecosystem of an era. Generally post colonial writing challenges what Edward Said refers to as cultural imperialism ( Culture and Imperialism 1993) Without making it obvious the writer succeeds in making her readers reclaim and rethink the history and agency of people subordinated under Imperialism.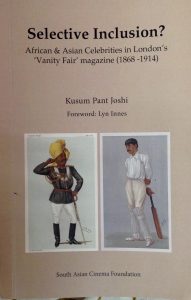 There is a list of 28 African and Asian celebrities with their date of appearance in London between 1868 and 1914. Joshi rightly claims that her attempt to bring the caricatured individuals to life by placing them in their historical context and assessing their importance and contribution.
The first in the list is Mansur Ali Khan, Nawab of Bengal, Bihar and Odisha whose caricature in Vanity Fair is offending. The editor of the magazine himself asserts that it is a living monument of English injustice and that the Nawab was a victim of British misrule and greed. On the other hand the caricature of Sir Salar Jung is a compliment for the excellent service he had rendered to the English in suppressing the mutiny of 1857. The British bias is clearly evident here .
There is also a substantial delineation of Chinese history. It is difficult to overpower an ancient civilisation which clings to its roots and defies cultural invasion. But Kuo Sung Tao a Chinese scholar, was caricatured exactly as he appears in contemporary photographs. This is because he was open to negotiations and resorted to diplomacy instead of showing unstinting nationalism , to bring success in dealing with western powers.
David Sasson's pro- British leanings helped him to expand business. His caricature is therefore a depiction of his English or European style as he eschewed his Arab robes in favour of the trappings of the gentlemen of British upper classes. Likewise the book mentions some Egyptian, Indian, Japanese and Korean celebrities whose caricatures feature in the magazine, some of them offending, some of them true to life, depending on their willingness to adapt and adopt British cultural invasion and supremacy. As the writer affirms there is an "Orientalist bias towards the "Other" in the British assessment of the characteristics of non British celebrities.
What the reader may conclude is that the British everywhere used their prominence to destroy everything that posed a threat to vital British commercial interests. But there are also indications that bonding between the East and the West seems possible on the basis of common human parameters.
The biographical sketches in the book include essential details about the role of the featured celebrities as soldiers, administrators and diplomats. The complexity inherent in the interrelationship of race class and gender is worked out as clashes occur between different civilisations and culture. The book is an important addition to post colonial history and of course to the general reader who is serious about knowing the past.
The title of the book has a question at the end which I believe is very suggestive. It engages the reader at a higher level, making them pay attention, look closer at what has been written and enjoy what is being told.