By Vivek Pattanayak in Bhubaneswar, December 16, 2021: Ever since the expression Atmanirbhar was used a year and half ago which meant self-reliance, or self-dependence in the domain of manufacturing and services in the country, it has become a buzz word among government officials, public sector executives and corporate honchos whenever the question of import substitution is discussed either in the health sector, defence production and information communication technology.
Taking cue from there, exploration is being made to what extent self-reliance can be extended to other sectors as well. In this context, it will be worth looking into civil aviation sector whether by way of providing service or manufacturing.
Air transport for non-military purpose covers multifarious activities. It includes operation of airlines, airports and air navigation services including aero-meteorological service. Manufacturing of aircraft includes air frame, engine, and avionics. In addition, aircraft and ground handling facilities require equipment of different type. Construction and maintenance of airports including terminal buildings and runways and taxi ways apart from installing primary and secondary surveillance radars, Non-Directional Beacons, VOR, Distance Measuring Equipment, and lights needed for Visual Approach Slope Indicators (VASI) and PAPI etc. for air navigational purpose are integral part of civil aviation activities.
Needless to state that civil aviation security being vital to air transport use of X-Ray machines, metal detectors hand-handling and door frame equipment are equally important. For safety at airport fire fighting equipment must also be available. For pilot training simulators are essential. Another domain which plays a particularly key role in aircraft operation is Maintenance Repair Overhaul (MRO). In the past the nearest place to India for MRO facilities was Hong Kong. India has now made effort to develop MRO in Nagpur.
Air transport includes fixed wing and rotary wing aircraft. Fixed wing aircraft include long range, medium range, and short-range aircraft.They can be propeller driven, jet and super-sonic aircraft. Incidentally, hyper-sonic aircraft are on drawing board in the world. They can be narrow bodied or large bodied equipment.

In recent times, drones have appeared in the aviation horizon. As technology improves drone operation is expanding. It may in due course replace aircraft in some segments of civil aviation. Air taxi service would possibly be provided by drones. Various components of drones can be manufactured in micro small and medium enterprises with Start-Up possibilities. Banks and financial institutions can extend credit and Angel funding can be availed in promoting drone industry. This is an excellent way of giving opportunity of employment and development of entrepreneurship for young engineers graduating from colleges and universities.
Although aircraft are operated by fossil fuel in recent times bio-fuel has started replacing fossil fuel. Battery operated aircraft are already on the anvil. Further solar powered aircraft has circumnavigated the world. Hydrogen would soon replace fossil fuel.
In India sugarcane production is significant from where we get our sugar. From sugar production comes molasses as a byproduct which is the raw material for ethyl alcohol. There are many agricultural products which yield ethanol. In addition, Jatropha can be the raw material for bio-fuel. Aviation fuel as earlier stated is now hybrid of fossil fuel and bio-fuel. Within a decade, hydrogen as fuel will replace fossil fuel by Air Bus. India can generate hydrogen from coal, plentifully available in the country. By electrolysis process from water hydrogen can be produced.
When solar powered aircraft will come into picture, if India has base for silicon chip manufacturing facilities it can be self-reliant and independent. For this pure grade silicon metal must be indigenously manufactured.
Lithium battery will be used to power the engine. Generally, lithium is found where there is cobalt, which is available in India, and also in Odisha.
In 21st century air transport sector is increasingly getting over-taken by computerisation. The entire travel trade is being digitized.India has an excellent reservoir of human resource in information technology which can be harnessed to give support to computerization and digitization.
From the above narration one can visualize the extent to which India can make effort to be self-reliant or self dependent.
The country has been proud of establishment of Hindustan Aeronautical Limited since the time of Jawaharlal Nehru. Production facilities for different alloys needed in aviation sector existed in Mishra Dhatu Nigam for decades. Investment casting was being done in HAL, Koraput since early eighties. Under the license of foreign companies aircraft manufacturing has taken place in India. Avro and Dornier assembled in the country operated in the Indian sky in the sixties on wards. In HAL apart from manufacture of military aircraft like MIGs, components of civil aviation aircraft have been manufactured with arrangements with Air Bus.
In civil air transport manufacturing sector although the industrially advanced countries like US, UK, France, Germany, Italy, Netherlands, Canada, Sweden, and Spain have led the world apart from erstwhile Soviet Union succeeded by Russia, the emerging country Brazil has entered the field. Small and developing country like Indonesia has also manufactured civil aircraft. Japan before the World War II had leaped forward in aircraft manufacturing. China is taking off in the area of designing and manufacturing of aircraft.
In the area of airline operation in the international sector by virtue of bilateral air services agreements in the light of the International Civil Aviation Convention, 1944 foreign airlines have right to operate. Designated domestic carriers also have right to operate on international routes covering foreign countries with whom air service agreements have been signed. If a review is made of agreements already signed one will find that many international routes are not served by designated domestic airlines for variety of reasons including shortage of aircraft or lack of commercial viability of routes.
Foreign airlines sometimes operate more flights than the Indian designated airlines. Since Covid 19 pandemic international operations have been severely disrupted although the situation is slowly improving. In the light of this in the field of airline operation self-reliance as a concept has limitation. In the domestic segment since the foreign airlines have not been granted traffic rights self reliance is the only way to follow. Interestingly in 2016 a surprise policy announcement had been made that 100 % foreign investment will be permitted in aviation sector on case-by-case basis. Notwithstanding this policy Qatar Airline's offer to operate in domestic sector received icy response.
Domestic operation in India has expanded and UDAN has taken air transport to unserved destinations and remote places. With establishment of more airports covering towns and tourist destinations and mining areas India will create infrastructure towards achieving self-sufficiency for providing air services. A large country like India needs more airports. The erstwhile USSR was known for wide network of airports. One must give credit to the British for constructing a number of airfields and aerodrome in the Eastern India including Odisha to stave off aerial attack from Japan during the Second World War. Maharajas also built similar airfields in princely states. Now we have taken advantage of these facilities after long years of neglect by establishing modern airports. Jharsuguda is an example.
Thanks to the dynamic initiative of the then forward-looking Chief Secretary of Odisha, Shri Jugal Kishore Mohapatra and former Chairman of Airport Authority of India, late Dr Guru Prasad Mohapatra, a brilliant officer of the Indian Administrative Service from the Gujarat cadre, a derelict airport of the World War II was converted into a modern airport which enabled budget airlines to connect Bhubaneswar, Hyderabad, Kolkata with Western Odisha. If similar efforts are made by public sector investment, private initiative or under public private partnership a greater number of airports, airfields, or aerodromes not in use since their operation during the British days can be rejuvenated. Even Greenfield new airports can be constructed.
Air navigation and aero-meteorological services are traditionally in the authority or jurisdiction of the government and state sector not only in India but elsewhere in the world whether directly under government or government-controlled enterprises.
From the previous narration one could see there are many operations in civil aviation requiring number of equipment, machines, and components need to be available either locally or from outside. Presently, many are imported, and some are locally manufactured. The government may give incentives for their indigenous production. At the same time India being a member of World Trade Organization must go by its regulations regarding subsidies. Further, unless there is economy of scale, production may not be viable. In such circumstances, import is better than domestic production.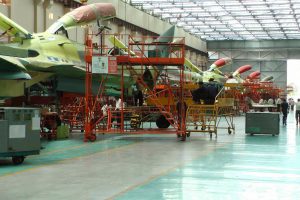 In one area where there is glaring inadequacy or near vacuum is aircraft production.
In India there is no domestic production of civil aircraft for long haul and medium haul flights. Except for small aircraft produced with license from foreign source for civil purpose India's achievement in manufacturing has been sadly wanting. During the period when Rajiv Gandhi was Prime Minister a Task Force had been constituted to study how domestic production of short-range passenger aircraft can be manufactured. After his exit subject did not receive any serious attention.
The entire civil aviation need for aircraft is met only through foreign source. To be self-reliant in this sector focus must be given. China which was behind India in the early eighties has made spectacular progress in aircraft manufacturing.
Self-reliance has been India's motto from the beginning of India's independence inspired by Gandhi and subsequently carried forward with industrial policy engineered by Nehru and implemented with great enthusiasm by him and equally pushed by Indira Gandhi and also Rajiv Gandhi. That explains why steel behemoths sprung up in the country in the fifties, sixties, seventies and eighties in addition to machine tool factories and heavy engineering industries and electronic production.
Atmanirbhar is a new coinage in terminology, old wine in new bottle. Mere announcement of policy is not enough to achieve self reliance, self-dependence and independence. What is needed is a robust plan of action and dedicated implementation taking all the stakeholders into embrace.