By Biswaraj Patnaik in Puri, December 23, 2021: Just three days ago, a couple comprising two senior citizens, though physically very fit, came panting out of the Jagannath temple in Puri. The lady was literally gasping for breath. "Authorities here need pulling up for being horrifically lax about imposing Covid appropriate behaviour in the interiors of the shrine as sensible people are panicky already in the wake of the omicron variant having arrived in India.
The outside queue had looked terrifying, which they had escaped for being elderly. But inside the temple, it was utter chaos. The same kind of body-to-body tightness as Hitler's gas chamber may have been. Each could feel the exhaled warm air from the nostrils of the impatient devotee pouncing from behind.
The temple interiors could easily trigger a corona third wave if the incredibly infective Omicron was riding a single soul. The stampede situation was so scary that squeezed women, children and frail males kept screaming in horror as the temple police kept merrily looking away.
The Jagannath temple and district administration have to put monitors round the clock to know how terrible things are being ignored.
In defamed China, on the other hand, one single domestically transmitted COVID case in the border city of Dongxing has forced authorities to order residents to stay at home, halt public transport and postpone the clearing of travellers and cargo at the ports of entry. Further, the city has suspended public transport services, shut down all tourist sites, cinemas and other entertainment venues and cut face-to-face school classes at primary and middle schools and kindergartens.Even export and import of urgent cargo are being planned very cautiously.Travel agencies have been ordered to halt arranging group tourism trips between border cities until March 15, 2022.
Leading scientists have described Omicron as horrific for the huge number of its mutations and its capability for super fast transmission.It has been detected already in more than 30 countries. And top scientists say there are signs it may be able to bypass some of our best induced immunity through infection as well as vaccination.
Prof Tulio de Oliveira, the director of the Centre for Epidemic Response and Innovation in South Africa, says omicron is'very different'from other variants as there are 50 mutations overall and more than 30 on the spike protein, which is the target of most vaccines and the key the virus uses to unlock the doorway into our body's cells causing infection rather too easily. It is five times more infectious than Delta the most lethal on record so far.
A lot of mutation doesn't necessarily mean bad. But it is important to know that all the available vaccines have been based on the original form of the virus first detected in Wuhan. But Omicron is so vastly different to the original that vaccines do not seem to be effective. The look and feels are as different as the specifically developed immunity giving antibodies may fail to recognise the new pathogen as enemy.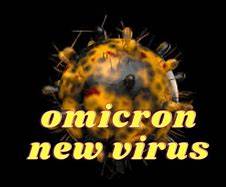 South African scientists have placed solid evidence about Omicron being capable of evading immunity.They have detected a surge in the number of people catching Covid multiple times, which was never seen with previous variants including Delta.Prof Ravi Gupta, from the University of Cambridge, says only days ago that 'Beta'is known for smart immune escape, 'Delta' had high infectivity, extreme severity but modest immune escape. But Omicron potentially has both to high degrees. The mild symptoms as seen now are only due to good vaccination and earlier infection. It is the only one capable corona variant to reinfect people with antibodies from vaccines or previous variants.
In South Africa, around mid-November there were around 250 cases recorded every day. By the first week of December, the number topped 8,000 daily cases in a country that has already seen large waves of other variants.
Experts have warned the same could happen around the world, including in the UK. Omicron is very likely tooutcompete Delta, and become the dominant variant within weeks.
The verdict is still not out on the severity of an Omicron infection. It will take weeks to know for sure as there is a long delay between catching the virus and becoming seriously ill. Though South Africa has been reporting most cases are mild, it has to be analysed on the critical fact that the country too has a relatively young population. As is well established a fact, younger people tend to have milder Covid. And any difference in severity could have more to do with the amount of immunity in the country than anything the virus is inherently doing differently.
So, for now, we are left with a variant that raises significant concerns despite huge holes in our knowledge. It is one that needs to be watched closely and asks deep questions about what to do and when. The big lesson of the pandemic is that 'one can't always wait until one has all the answers'.
All the same, there is no reason to panic as fear anyway is hugely damaging and detrimental to health. It reduces immunity because mental illness and anxiety are equally dangerous as the most virulent pathogen.
India did well at the beginning of the horrifying corona season. But towards the end of 2020, the authorities imagined corona had left for good and let people go off guard. Lurching Delta waiting for opportunity came and caused the most devastating health disaster between the spring and autumn of 2021 across the world.
So remaining alert is the only way left. All precautions based on the recommended Covid behaviour may save mankind because Omicron is the newest variant and experts have limited knowledge about it. Avoiding crowded places, maintaining social distance and hand hygiene are the most critical of all drug less precautions apart from wearing masks, eating healthy food and doing regular physical exercise. Remaining level-headed and cheerful would do magic in boosting immunity. There is no reason to feel or spread panic. Helping each other on being cautious can keep everyone safe and protected. Vaccine induced immunity is fast receding. And boosters are no where in sight as the vaccinate need to be jabbed fast with limited supply of the vaccine stuff.
Omicron cannot be brushed aside as mild and ordinary.