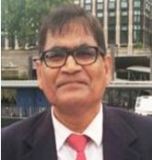 Prof. S.N. Misra in Bhubaneswar, December 06, 2021: Vinod Dua, the witty laconic gadfly was an ideal counterfoil to the suave cerebral Prannoy Roy when they did election analysis together in 1984. Hinglish at its luminous best.
Yet they fell out in 2013, when Dua blamed Prannoy for ruining his career. But the enduring image for me was of two hosts, no shouting, no ranting, not necessarily agreeing, yet exhibiting unfailing courtesy towards each other, a journalistic jugalbandi, unlikely to be seen on Indian television again.
For some, he peddled half truths in his program Jan Gan Man Ki Baat. He was charged with sedition for his anti Modi comments, which was dismissed by the Supreme Court. He was embroiled in the Me Too movement for his alleged sexist remarks. But for me he was the fearless symbol of fourth pillar of democracy whose bluntness was softened by humour comments sharpened by objectivity and sarcasm. His soul was not sold out to any corporate or political party.
Vinod was of my age. He was the life of any get-together during our student days in the 70s, crooning old Hindi songs and hazels. His talent really blossomed with Prannoy in the 80s. His precise summary in Hindi after Prannoy's comments on election results is impossible to replicate.
He was really disappointed that he could not cover the 2014 election, when a major alternative ideological tornado was going to pulverize the dynastic tide.Food was his weakness. No wonder he was an excellent food critic. But Vinod never cooked half truths. Nor did he hobnob with powers that be. With his passing away, a slice of fearless journalism has been hived off.