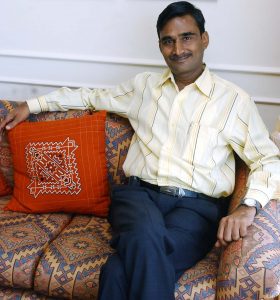 By Nageshwar Patnaik in Bhubaneswar, October 29, 2021: As the COVID-19 situation in the state is largely controlled, people of Odisha can dream of normalcy and towards sustained economic growth. Experts are very positive about the state's economy and predicting in excess of 10 per cent growth in this fiscal, which could be higher than national average of about 9 per cent growth.
The economy of Odisha has grown at 7.1 percent per annum during the period 2012-13 to 2019-20 (at constant 2011-12 basic prices) and contracted by 4.9 percent in 2020-21. The decline in the growth rate between 2019-20 and 2020-21 is obviously due to adverse impact of Covid-19 due to disruption of normal life. The measures taken by the State Government to fight Covid-19 has brought about sharp rise in public expenditure on health care to protect lives.
But for the resilience of the state economy and effective governance measure in managing the pandemic, the decline would have been much sharper. While net borrowings of the states/ UTs increased by about 40 per cent during 2019-20, gross market borrowings at Rs 6.3 lakh crore increased by 32.7 per cent, one of the highest in the recent past, Odisha have been pragmatic in trying to meet their higher fiscal deficits by using its own rainy funds without recourse to higher permissible market borrowings.
How could Odisha manage to buckle under the pressure of covid-19 pandemic?
First, Odisha state took pro-active measures to enhance the corpus of the contingency fund, frontloading of open market borrowing, sourcing funds at lower borrowing cost from Compensatory Afforestation Fund Management & Planning Authority (CAMPA) and Odisha Mineral Bearing Areas Development Corporation (OMBADC) to facilitate the availability of resource in the aftermath of COVID-19 crisis.Besides, as part of the 'Fiscal Reprioritization' of the state, the state took counter cyclical measures, resource mobilization at lower cost, identification of idle cash balances in inoperative bank account and transparency in public expenditure.
"The pillars of fiscal risk management are to identify, assess and mitigate the fiscal risk. Fiscal transparency is central to this newly adopted fiscal risk management", Dr. Asit Mohanty, Chair Professor, Center of Excellence in Fiscal Policy and Taxation, Xavier University says. The Naveen Patnaik led government adopted "Fiscal Risk Management" in order to further strengthens economic governance and public financial management.
A comparative analysis of growth performance of Odisha vis-a-vis other states of India during 2012-13 to 2019-20 reveals a positive differential trend in the State's average annual growth rate. Between 2012-13 and 2019-20, the state's economy grew at an average annual rate of 7.1 per cent, a rate faster than the national average of 6.6 per cent and 13 other states of the country. The contraction in Odisha's real GSDP growth in 2020-21 at -4.92 per cent is lower than the contraction of the national economy (-7.7 per cent), according to the State Economic Survey 2020-21.
Odisha over the decades has transformed itself from a laggard state to a state growing at a faster pace thanks to political stability in the state in the last two decades and Odisha's resource base has virtually made it the eastern gateway to a vibrant economy. The state improved its economic growth in 2018-19 to 8.4% from 7.4% in the previous fiscal and, in fact, has grown at a faster rate than Haryana, Punjab, Kerala, Chhattisgarh, Madhya Pradesh and Jharkhand.
In the last one decade, the Per Capita Income (PCI) of Odisha has grown faster than PCI-India. PCI-Odisha, which was about 76.42 per cent of the national PCI in 2011- 12, increased to 80.46 per cent in 2020-21. Per capita income of Odisha in 2019-20 (1st RE) at current prices is seen to be higher than that of Bihar, Uttar Pradesh, Jharkhand, Meghalaya, Madhya Pradesh and Chhattisgarh, the Survey points out.
The Y-o-Y growth in State Own Revenue during August 2021 has been 74% which highest among all normal category states in India. The spending in social sector has exhibited 47% growth in August 2021 as compared to August 2020. This is also highest among all normal category states in India. Considering high mobilisation revenue from states' own of resources, surplus fund position in both revenue and capital account, the state needs to augment capital outlay. Besides monetisation of Government assets will add to the existing efficiency in revenue mobilation, and more headroom for more expenses in capital projects.
Snapshot
• Revenue Receipts at Rs. 58176.3 Crore in September 2021-22, registered a positive growth of 26.80% over September 2020-21.
• Total Expenditure (both revenue and capital) at Rs. 52082 Crore in September2021-22, has shown a growth of 22.15% over September 2020-21 figures.
• Revenue Surplus Ratio has increased to 4.69 % of GSDP in September2021-22, from 2.28% of GSDP in September 2020-21.
• Fiscal Surplus Ratio has improved to 2.52% of GSDP in September2021-22 from0.88% of GSDP in September 2020-21.
• IPRR (Interest payments to Revenue Receipts) has improved to 3.86% in September2021-22 as against of 4.90% in September 2020-21.
• The Debt Stock Ratio is calculated at 17.72% of GSDP in September2021-22 as against 16.40% of GSDP in September 2020-21.
Industrial development is the engine of economic growth of a nation. The sector currently leads the developmental change of the State, constituting 36% of States' GVA relative to 26% at the All India level as per 2020-21(AE). As per 2019-20 Revised Estimate (RE), the growth of the Industry sector was 3.61 % in Odisha as compared to 0.92% at All India. This is due to significantly large share of Mining sector in Odisha. The Annual Average growth rate of the Industry sector during the last 9 years has been 5.36% as against 3.77% at National level. However, due to disruptions caused by COVID-19 pandemic in early 2020 and continuing till date, the expected growth of the Industry sector in Odisha at Constant(2011-12) prices is (-)8.83 % as against (-) 9.57% at All India level as per 2020-21(AE).
The state accounts for Country's 96% Chromite, 92% Nickel, 51% Bauxite, 33% Iron Ore,43% of Manganese Ore and 24% of Coal Reserves as on 1.4.2019. Odisha contributed around 25 % of total major mineral produced in the country. Mining Revenue collection during 2019-20 was INR 11020.02 Cr shows a growth of 90% over 2015-16. However, the resource-rich regions in India — the states of Jharkhand, Odisha, and Chhattisgarh — have some of the lowest per capita incomes in the country. As of 2017-18, the mineral sector (minus petroleum and natural gas) accounted for merely 1.53 per cent of the country's Gross Domestic Product GDP.
By taking variables such as natural resource abundance, economic growth, investment, human resource development, financial development and institutional quality over the period 1995-2015, a study "Are resources a curse or blessings?" by Shakti Mohan TANDI & Prajna Paramita Mishra, 2020 finds that there is a negative relationship between natural resource abundance and economic growth in the long-run. The study confirms the existence of natural resource curse in Odisha possibly because of weak institutions and lack of appropriate policies.
Government should launch Are resources environmental friendly policies to explore natural resources & attain maximum benefit. Financial development and trade openness should be used as policy tools to exploit natural resources which in turn, will enhance domestic production and hence economic growth, the study says.
Structurally the state economy over the years has undergone significant changes. There has been a paradigm shift and the economy of Odisha with industry sector constituting 40% of State's Gross Value Added (GVA) relative to 30% at all-India level in 2018-19. The manufacturing sector is the largest contributor with a share of over 46.8% in 2018-19 followed by the mining sector at 27.3%.
The state appears to be in an enviable position to step up industrialization with an enabling policy frame work coupled with the necessary institutional arrangements, liberalized policy, single window system, E-Biz projects, and technological interventions and so on. In 2020-21, when the pandemic was raging and businesses were either shutting shop or going slow across the country, industries in Odisha contributed to 36 per cent of the state GVA (gross value added), continuing the growth pattern from 2019-20 when the sector grew by 3.6 per cent compared to 0.9 per cent for the country, according to Odisha government figures.
At a time when national economic statistics paint a gloomy picture of upended small businesses and massive unemployment, Odisha has been quite successful in lining up firm proposals for investment of over Rs 3 lakh crore. These investments by some hundred companies will create an estimated 110,000 new jobs. These projects are at various stages of execution like land allotment, construction etc.
For a hassle free ecosystem for investors, Odisha has 100,000 acres of ready land available for industrial use. A dedicated land bank scheme with an inventory of investment-ready land has been uploaded to the industry department's 'Go Plus' portal—a GI (geographical indication)-based ready reckoner on infrastructure and location-specific industrial plots. The strict enforcement of the Land Rehabilitation and Resettlement Act as a concomitant of land acquisition and making public hearings mandatory has minimised public resentment and agitations.
The potential investors in the last fiscal, include giants like Jindal Steel and Power (Rs 76,000 crore), Bhushan Steel (Rs 55,000 crore) and Tata Steel (Rs 47,000 crore). Some 60-70 companies have crossed the preliminary hurdle of getting approval from the 'Go-Swift' single window facilitation and tracking portal. Senior officers from all regulatory authorities are part of the portal that handholds investors and helps resolve their vexed issues if any. The State aims at garnering Rs 2.5 lakh crore of new investments in the identified focus sectors and create 30 lakh jobs opportunities by 2025 and by this year, the state expects the investment to go up to Rs 4 lakh crore.
Interestingly, during the pandemic period, Odisha has seen a boom in diversified sectors including non-renewable energy, green energy equipment, auto and auto component parts, electronics manufacturing, telecom equipment, textiles, apparel, pharma and bulk drugs. The Odisha Industrial Development Plan, 2025 also contains a blueprint for sector-specific infrastructure development—by way of dedicated parks, ready made sheds, plug-and-play infrastructure and programmes to upscale the skills of local youth for re-employability.
The Naveen Patnaik government also has plans to shift focus from conventional mineral and metal-based industries is that they are capital-intensive while now becoming less labour-intensive to generate employment. It is also making a conscious effort to broad base industrialization with investment in other sectors like Food Processing and Allied sectors, Chemicals and Petrochemicals, Textiles including Technical Textiles, Information Technology (IT), and Information Technology enabled services (ITeS) and Electronic System Design and Manufacturing (ESDM) etc.
The challenge before the government is to work out a holistic policy for proper, effective, faster and transparent utilization of the abundant resources to generate higher revenue to lift the state from a backward state to a developed state.