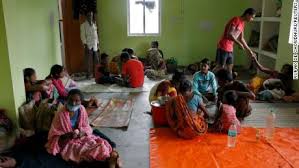 By Bizodisha Bureau, Bhubaneswar, May 25, 2021: Over 11 lakh people have been evacuated from vulnerable areas in Orissa and West Bengal as very severe cyclonic storm Yaas approaches the coast and is expected to make landfall near Dhamra Port in Bhadrak district early on Wednesday morning.
While West Bengal has evacuated over nine lakh people to safe shelters, the Odisha government, on the other hand, said it has moved over 2 lakh people from vulnerable areas in coastal districts to safety.
In its latest release, the India Meteorological Department (IMD) has said that the storm has intensified into a 'very severe cyclonic storm' category. The IMD has also issued a red-coded warning alert to the Odisha and West Bengal coasts.
As per the latest update by the MeT department, the storm is about 160 km southeast of Paradip (Odisha), 250 km south-southeast of Balasore (Odisha), 240 km south-southeast of Digha (West Bengal) and 230 km south of Sagar Islands (West Bengal).
The National Disaster Response Force (NDRF) has earmarked its highest-ever number of teams for deployment in Odisha and West Bengal to undertake relief and rescue operations during cyclone Yaas, its chief S N Pradhan said on Tuesday.
The federal contingency force has committed a total of 113 teams for deployment in five states and the Union Territory of Andaman and Nicobar Islands which are expected to be affected by the cyclone brewing in the Bay of Bengal.
As 'severe cyclonic' storm Yaas approaches coast, Odisha Chief Minister Naveen Patnaik on Tuesday asked officials to take all possible steps to protect human lives.
"Every life is precious, thus all possible steps should be taken to protect life," the Odisha chief minister was quoted as saying. Patnaik made the remarks during a meeting to take stock of the cyclone situation in the state which has already started impacting lives across the coastal districts as heavy rain pounced with blowing of wind at a speed of about 60 kmph.