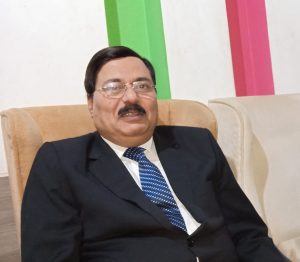 Odisha has produced very few leaders to head top corporate houses in the country. Dr Tapan Kumar Chand is one among few corporate captains. Born on 17 November 1959, Dr Chand is a mining veteran, top executive and author. At present he is the Chairman cum Managing Director of National Aluminium Company, which is the largest integrated aluminium unit in Asia and is also one of the largest aluminium complexes of the world. He has been in the mining and metal sector since 1982, earlier serving as the Director Commercial of Rashtriya Ispat Nigam Limited which is popularly known as Visakhapatnam Steel Plant and Director Personnel & Director (Sales & Marketing), of Central Coalfields Limited.
After taking mantle of Nalco on 27 July 2015 he asked his team to renegotiate contracts with the aim of reducing procurement costs by 20%, which would save Nalco nearly Rs 100 crores. Besides, he is trying to convince the board to include mining in its vision plan. He also announced investments of $10 Billion to be made for a number of projects, including a Greenfield aluminium smelter abroad.
He hails from Jagannath Dham, Puri and nurses a dream of prosperous Odisha. In an exclusive interview with Nageshwar Patnaik, Editor, Bizodisha, Dr Tapan Kumar Chand makes it clear that Odisha will emerge as the Aluminium Capital of India and also become prosperous state sooner than later.
Excerpts from the Interview:
NP: Odisha is rich, but Odias are poor. How do you look at this paradox? What prevented faster development of the resource rich state since independence?
Dr Chand: Odisha is rich, but Odias are poor is a myth. The state per capita income reached the level of Rs.61,678/- in 2016-17 against 57,616/- in 2015-16 (7.05% rise compared to 5.5% rise in India per capita income).
Year
Per Capita income(2011-12 base) in Rs.
Odisha
India
2015-16
57,616
77,524
2016-17
61,678
81,805
The major factors hindering faster development of Odisha are:
• Mineral Resource Utilization: The mineral resources in the state have not been utilized fully. For example, the state has 1995 MT of bauxite resources out of which only 325 MT i.e.16.3% is reserves and about 1669 MT are in remaining resources which are yet to be explored.
• Lack of adequate infrastructure at the Mines: Most of the resources/mines are in the tribal belt and forest land having insufficient infrastructure & connectivity. The augmentation of rail, road, sea & airport infrastructure in the State is going to change the scenario in very short time.
• Agrarian distress: Although the State has 11 major river basins but most of the farmers basically in the tribal belt of North & South Odisha restore to single cropping. Inadequate infrastructure to market the produce; storage facilities & support system at times has aggravated the conditions. With emphasis on infrastructure build-up & focus on irrigation, the situation is fast changing.
NP: Odisha has vast mineral resources. The state accounts for 96% of chromite, 97% of nickel, 52.65% of bauxite, 24.57% of coal, 35% of iron ore and 45% manganese in the country. Besides, there are abundant minor minerals. And yet, the state remains industrially backward barring few steel, aluminium plants. What ails the state on the industrial front?
Dr Chand: Industrial activity has not picked in the desired manner due to issue of downstream market which adds value, creates employment and helps in Industrialization of the place. The primary reason for this is the absence of market. With the new Industrial Policy of the state and gradual branding of the State as Industrial Friendly one (investments committed in Make in Odisha Conclave 2018– 423k cr), the situation is fast changing to become an industrial hub.
As noted in the above question, the State is having only one major Airport and one major Port with limited access to the mineral bearing areas of the State through rail & road.
The State has low consumer purchasing power. At factor cost (2004-05) for per capita NSDP, among all the States, Odisha ranks fourth from the last better than only Assam, UP, Manipur & Bihar. This can change with development of downstream industries with support from mother plants that will create huge job opportunities & thereby improving the purchasing power of the general populace.
NP: You are also chairman of Confederation of Indian Industries, Odisha chapter. Which are the sectors with potentials to grow in the state? CII had come up with a Vision Plan sometime back for a New Odisha. What is your vision of New Odisha?
Dr Chand: Aluminium sector has huge potential to grow in the State. With more than 50% bauxite reserve of the country and about 25% coal, the State can be the Aluminium capital of India. If the concern of coal & bauxite availability can be addressed with suitable policy intervention the sector will grow many folds further in the State.
The abundance of Iron Ore, Manganese and Chromium are the necessary raw materials for Steel and Stainless Steel making. A well-developed secondary manufacturing in this segment can also be facilitated through right infrastructure and policy support to develop a downstream consumer market.
Domestic Automobile production in India grew 7.08 per cent CAGR between FY13-18. The major component of any automobile is made of either Steel or Aluminium. Therefore, having right kind of auto & auto component industries will increase the consumption of Steel & Aluminium within the state.
Some other sectors which have potential for growth are Food processing, Metal and Metal Fabrication Downstream Industry, Chemical Industry, Textile Industry and ESDM & IT / ITes Industry.
I want to see New Odisha on the growth path moving to an Industry based economy. Presently, the agriculture sector contributes 19.98% and the Industries sector contribute 34.77% respectively to the Odisha State GDP. I want the Industries sector to contribute much higher because higher industrialization means more job creation. More employment would mean all round development which would include access to education for more populace and improving living standards of the people.
NP: Recently, Odisha government has successfully organized World Cup Hockey and Invest Odisha Conclave. Do you think Brand Odisha will gather steam following both the events? What more needs to be done to popularize Brand Odisha?
Dr Chand: Bhubaneswar as a city and Odisha as a State were the focal point of vision of World populace due to these events. The State was the point of discussion across the nation and in international forums. Brand Odisha definitely got a boost with successful conduct of these mega events. Tourism sector also got a boost.
Further, to popularize Brand Odisha, typical cultural signatures of Odisha like Odishi dance, filigree works, applique works, Patta Chitra, unique handloom products of Sambalpur & Khordha, exquisite architectural & sculptural works should be promoted on World stage on regular basis.
NALCO, on its part, to popularize Brand Odisha, along with Aluminium Association of India is organizing the International Conference for Aluminium (INCAL) from 31st January to 3rd February 2019. We are expecting a host of international participation from Industry, Academia, Engineers and Intellectuals from within the country & abroad. This will be the first of its kind being organized in the State and I am sure this give a fillip to Brand Odisha.
NP: You are also heading Aluminium Association of India (AAI) and you have announced to promote Odisha as the Aluminium Capital of India. Odisha has more than half of bauxite deposits and yet, companies like Vedanta are starved of bauxite and are not able to run its alumina and aluminium plants even at half of its capacity. How can Odisha emerge as Aluminium Capital given this kind of situation?
Dr Chand: Resources are available in the State. Suitable policy measures to facilitate resource extraction and value addition keeping in mind the benefit of all stakeholders needs to be implemented. This is being taken care with enactment of MMDR act and industry friendly policy measures by the Centre and the State Govts.
NP: Even Nalco, which is a public sector giant, is not getting sufficient coal required by it. Unavailability of coal during the second quarter this fiscal restricted Nalco from producing electricity at your Captive Power Plant in Angul and you were forced to procure power from Gridco at high rates. The state boasts of about 25% of coal deposits in the country, but Nalco and many other companies are not getting their coal requirement. Is it not an irony?
Dr Chand: Mining of coal is a challenging task in the rainy season. We have been affected specifically during these few months for which we had to import power. The situation is improving and hope adequate measures are being taken by Coal India and Indian railways to overcome the challenges during monsoon.
NP: The consumption of Aluminium in the country will reach 10 million tons in the next 10 years. The country needs to scale up production of Aluminium to meet the demand. Can India be self-sufficient in Aluminium production in the next decade? What kind role Odisha play in this context?
Dr Chand: Yes, India can be self-sufficient in its Aluminium production. It is having adequate critical raw materials i.e. Bauxite & Coal. Odisha will play a significant role as it is home to about 52% Bauxite reserve and 25% coal and more importantly having the experienced skill manpower resources for the Aluminium industry. We are at NALCO are going ahead with a Brownfield expansion at Angul to reach almost a Million Tons capacity in next five years.
Suitable integrated policy for Aluminium production, consumption & recycling is the need of the day to meet this unfolding challenge.
NP: NALCO had achieved global benchmark of low-cost producer of bauxite mining and alumina-making. But the PSU has a captive mine. Now that the union government is auctioning mines, will private players be interested to invest in this sector?
Dr Chand: More than the captive mine, it is the adoption & utilization of technology in an efficient manner with a constant pursuit for Kaizens (small improvements & innovations) that helped the Company to attain the global benchmark.
Since the demand of Aluminium is growing multi-fold as the economy progresses, the basic raw material of industry i.e. Bauxite will be of interest to all players.
NP: Industrialization of a state cannot take off without downstream industries and growth of MSME industries. Do you think Odisha's industrialization has not taken a shape in the absence of downstream industries and MSMEs?
Dr Chand: Yes, downstream industries play a major role for industry through job creation and value addition.
In Odisha, 252 large & medium companies with an investment of Rs. 92,786.94 crore employ about 1.18 lakh employees i.e. about Rs.78.63 lakhs investment/person for large and medium companies. In comparison, 2.14 lakh MSMEs with investment of Rs.10,585.90cr employ about 10.12 lakh employees i.e. about Rs.1.05 lakhs investment/person for MSMEs. This implies that with less investment more jobs can be created by MSMEs & large CPSEs are to operate as mother plants creating ecosystem for employment & employability.
Lots of efforts are being given by State govt. and Central govt. to build the necessary ecosystem. In recent times the land scape is changing and downstream industrialisation is also taking shape in the State.
In this regard, NALCO is setting up Angul Aluminium park in JV with IDCO to promote downstream and ancillary industries.
NP: How is Nalco promoting downstream and MSME industries in the state? We have been told of an Aluminium park for almost a decade. What is its status? What is Nalco's road map to step up industrial development of Odisha?
Dr Chand: For NALCO, promotion of both downstream and MSME industries is of utmost importance. The Angul Aluminium Park is a flagship endeavour of NALCO in JV with IDCO. Yes, there has been some delay, but all the necessary infrastructure for taking it forward has now been put in place. Land acquisition and the construction of boundary wall is already completed and internal site development and approach road are in final stages of completion. Approvals for site allotment are in progress and the park is generating huge interest from the downstream and ancillary industries.
As regards development of MSME industries, NALCO is procuring more than its mandated requirements. Against the mandated requirement of procuring at least 20% (from 2018-19 it will be 25%) from MSMEs, NALCO had purchased more than 26% in 2017-18. Also the Company is conducting vendor development programmes, buyers' sellers meet to ease the process. The Company has also set up display halls for the items that can be procured from MSME organisations. Recently the Company launched a mobile app NAMASYA to provide one stop solution for the MSME vendors.
NP: Companies with a net worth of Rs 500 crore or more, revenues of Rs 1,000 crore or more, or net profit of Rs 5 crore or more in a fiscal year are required to spend at least 2% of the average profits of the preceding three fiscal years on Corporate Social Responsibility (CSR) activities, according to provisions of the Companies Act, 2013. The union government has sanctioned prosecution proceedings against 284 companies in the country and sent 5,382 notices to companies that have not fulfilled the mandatory corporate social responsibility (CSR) expenditure norms, according to minister of state for corporate affairs P P Chaudhary. How can be the corporate made CSR compliant? How has Nalco done on CSR front?
Dr Chand: Often legislative changes are harbinger for adoption of a system which otherwise are not prevalent. More number of companies i.e. 2203 out of 6,286 have spent more than the prescribed amount towards CSR during April-November period of 2016-17 and for many it's a way to pay back to the society than to comply to law.
In NALCO, we have the cult & philosophy of "Sharing the happiness" with all stakeholders & specifically for the people in the areas where we operate. Incidentally, the Company mines & refinery complex are located in the tribal dominated districts of Koraput giving us a scope in bringing in changes in the quality of lives of people around us.
NALCO is one of the 1st CPSE to have a CSR Policy since inception even when Govt. mandate was not there. Since inception, NALCO has spent more than Rs. 325 crore towards CSR activities till FY 2017-18 and has set up a standalone Foundation since 2010 for taking up its CSR activities in more empathetic manner to fulfil the basic needs of the people of the periphery villages of its plants.
Major CSR activities carried out by NALCO:
⇒ More than 1 lakh patients treated every year through MHU
⇒ Piped drinking water supply to 13 peripheral villages of Angul
⇒ 920 tribal children provided with free residential education in reputed institutes.
⇒ 77 meritorious BPL Girl Child provided with financial assistance under "NALCO-ki-Ladli" scheme
⇒  23 projects undertaken for Iconic Shrine Development at Puri.
⇒ 11 Awards instituted to promote Arts, Culture, Sports, Start-Up, etc.
NP: What is the overall metal scenario in the world at the moment?
Dr Chand: The production & consumption in 2018 is expected to grow by 0.7% & 3.9% respectively over 2017 thereby creating a market deficit of nearly 2MlnT in 2018.
Lot of uncertainty have been daunting the market. The major contribution factors being US sanctions and subsequent withdrawal of sanctions against UC Rusal, Trade war between US & China, import tariffs on aluminium products by US, 50% capacity utilization at Alunorte due to environmental concerns, etc. Rising input cost & low LME prices are putting lots of stress on Smelters, with lot of Smelters in the West shutting down & more than 2MlnTpy capacity curtailed in China.
In 2019, the market is expected to be sustainable, stable and having low uncertainty and to be fundamentally driven.
NP: How is Nalco planning to expand? What is its diversification plan if any?
Dr Chand: NALCO is planning to expand with a definite road map prepared through a Corporate Plan with a 3 year action plan, 7 year strategy and 15 years vision.
Accordingly, the Company has extensive plans for brown field and green field expansion projects, which include the ongoing 5th Stream Refinery project of 1 MTPA capacity in existing Alumina Refinery at Damanjodi (Brownfield), development of Pottangi bauxite mines, Utkal D&E coal mines in Odisha, establishment of 5 lakh TPA brownfield Smelters in Odisha, 6 lakh ton green field Smelter and 1320 MW power plant.
As part of backward integration, the Company is establishing a caustic soda plant in JV with Gujarat Alkalies & Chemicals Limited (GACL) in Gujarat and a CT Pitch plant in JV with NINL in Odisha. Also to produce more value added products the Company has lined up plans to set up Aluminium downstream unit, and to produce high end products to be used in defence and aerospace sector in JV with MIDHANI.
The Company also envisages diversifying into commercial mining(Manganese, Chromium, etc) and Li ion batteries.
NP: Aluminium prices have come down from high levels of October 2018. Do you expect that the prices will continue to go down?
Dr Chand: At the present prices more than 30% Smelters globally are making losses. The present price is at a critical cost position and there will be cost-support as we expect the raw materials prices would be firm and hence we do not envisage much drop from the present price level in the coming days. In Jan 2019, analysts expect the LME prices to average around $1920/t. Our expectations are that the prices may average around $1925-$2050/t in 2019.
NP: Nalco has posted good results in the second quarter. What is your outlook for the third and fourth quarter amid the ongoing pressure on alumina prices?
Dr Chand: The outlook for the 3rd & 4th quarter is expected to be good. The company shall earn good profits in 3rd & 4th quarter also as we expect the Alumina prices to hold above $400/t levels. The EBIDTA margin for the 1st half was 34% and it is expected to be around 28% for the FY 2018-19. Overall, the company shall earn net profits in excess of Rs.1700 crores for the FY 2018-19.
NP: Will the proposed buyback have an impact on your dividend payout as well as capex plans?
Dr Chand: The buy-back process is already completed. It will not have any impact on the dividend payout and capex plans as the Company is making adequate profits in the current FY. The net profit during the first half of the year (Rs 1197 Cr) is more than 3 times the profit earned in corresponding period last year.
The capex plan for this year is Rs 1,100 crore which will be financed by internal resources. The capex for future expansions will be suitably funded from internal accruals with appropriate mix of debt funding.