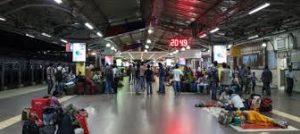 By Bizodisha Bureau, Bhubaneswar, February 4, 2023: The budgetary allocation for railway development has gone up substantially in this year's budget. The Centre has allocated Rs 10,012 crore in the Union Budget for the development of railway sector in Odisha, which is Rs 278 crore more than last year's allocation of Rs 9,734 crore.
"The state government had asked for Rs 8,400 crore for the railway sector. I am not talking about whether the state had asked for less or more. They have asked for a good amount. But the Centre has allocated Rs 10,012 crore against their demand," said railway minister Ashwini Vaishnaw while addressing media persons here on Friday through videoconferencing.
He said the railways was completing an average of 53.4 km new lines per annum between 2009-2014, but now it has completed 423 km till January during the current financial year. "This shows our speed of work and commitment to complete the old projects," he added.
Vaishnaw said they had planned to redevelop 34 railway stations in the state, but the number has been increased to 57, which includes Bhubaneswar, Puri, Cuttack, Rourkela, Sambalpur and other small and medium stations. One of the oldest and important projects – the new Khurda Road-Balangir (301 km) line – received the highest allocation of Rs 1,599 crore. The project, which was sanctioned in 1994-95, will connect western Odisha with the coastal part. East Coast Railway has commissioned around 90.43 km from Khurda Road side and around 25 km from Balangir side.
The Centre has also planned Janjatiya Gaurav Corridor to provide rail connectivity to tribal areas. In the Budget, the Centre has allocated Rs 284 crore for the state under the project. Last year, the Centre had sanctioned final location surveys of new Malkangiri-Bhadrachalam line (125 km) and Junagarh-Nabarangpur line (118 km).
With the sanction of the final survey of Malkangiri-Bhadrachalam and Junagarh-Nabarangpur new lines, the railways made it sure that it will connect tribal areas of 411 km from Junagarh in Odisha to Bhadrachalam in Telangana.