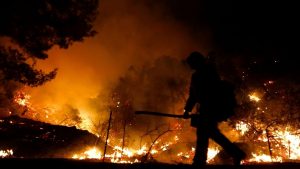 By Bizodisha Bureau, Bhubaneswar, March11, 2021: For the last week, Odisha has been battling a forest fire. Particularly, with the raging forest fire in Simlipal National Park for over a week, Union Environment Minister Prakash Javadekar on Wednesday said a committee of experts is being sent to help the state government manage such incidents in the region.
Announcing the decision on Twitter, Mr Javadekar also said that he discussed the forest fire with Union Minister of Petroleum and Natural Gas, Dharmendra Pradhan and other parliamentarians from Odisha.
At least 5,291 forest fires were recorded in Odisha between February 22 and March 1, 2021 – the highest in the country for the same period, according to the Forest Survey of India (FSI). As many as 7,188 fire spots were spotted in Odisha since November 1.
Some cities in the state crossed the 40 degree Celsius mark on February 28, 2021and the increasing temperatures also sparked forest fires in the state, experts said.
A massive fire devastated vast tracts of Simlipal National Park in Mayurbhanj district and other wildlife habitats nearby, raising concern among environmental activists over its possible impact. The Odisha government has claimed that no life was lost in the forest fire and that 95 per cent of the fire points have been extinguished or at least attended to.
The forest fire task force chief, Dr Sandeep Tripathy said that the forest fire was brought under control and no life was lost in the same. It was due to the prompt action taken by the team that the fire was controlled and the damage was minimized, he claimed.
Collection of mahua flowers and kendu leaves, practice of shifting cultivation and grazing in forest areas are some of the reasons for forest fires in Odisha, said a retired forest officer. Forests are set on fire to cultivate turmeric in Baliguda forest division in Kandhamal district, he added.
"We mapped around 6,000-kilometres-long fire lines in the state. We have taken precautionary measures to immediately attend to the incidents," said a senior forest officer.