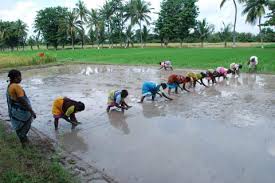 By Bizodisha Bureau, Bhubaneswa February 5, 2021: With farmers announcing road blockade on several roads across the state responding to countrywide 'Chakka Jam' called by the farmer unions pressing for repeal of contentious farm laws, vehicular traffic is likely to be hit on Saturday.
All India Kishan Sangharsh Coordination Committee (AIKSCC), an umbrella organisation of different farmer outfits, will block different national and state highways across the state between 12 o'clock to 3 pm on Saturday to mark the 'Chakka Jam' protest.
In the state capital here, the AIKSCC has announced to block the road at Master Canteen, in the capital city in front of Crown Hotel, Raj Mahal Square, Jaydev Vihar and other places of the city. Similarly, they will organise the Chakka Jam protest at district and block level, Suresh Panigrahy from AIKSCC said.
He, however, clarified that it is not like 'Bharat Bandh' or 'Odisha Bandh'. "We will block the roads for three hours to show solidarity to the farmer movement. Except road traffic, other things including activities in business establishments and offices will not be affected. It will be a peaceful protest," Panigrahy added.
Paschim Odisha Krushak Sangathan Samanwaya Samiti (POKSSS), an umbrella organisation of western Odisha farmers, will observe the Chakka Jam at several places in 10 western Odisha districts protesting the Centre's farm laws and alleged harassment of farmers at protest sites in Delhi.
Navnirman Krushak Sangathan (NKS) will block NH16 at Pahal in Bhubaneswar as a mark of the Chakka Jam protest. NKS state convenor Seshadev Nanda said they are prepared to strongly protest the Centre's farm laws and its attitude to harass the farmers in Delhi borders. "We will also organise road blockade in 20 districts of the state including Khurda, Cuttack, Jajpur, Jagatsinghpur and Keonjhar, he added.
Bharatiya Khet Mazdoor Union (BKMU), Odisha state committee, will hold a procession of farmers from Ashok Nagar to Rajmahal Square in the city and block the road at Rajmahal Square protesting the farm laws. "Centre cannot suppress a democratic movement in the country by using dirty tricks and force," said Sura Jena, state secretary of BKMU.