By Bizodisha Bureau, Bhubaneswar June 21, 2020: The specter of Covid-19 pandemic and call to boycott Chinese products by certain groups in the wake of Sino-India standoff near Ladakh will have an adverse impact on the already troubled India-China trade.
The global exports of commodities to China could plunge 46 percent, by $15.5 billion to $33.1 billion in 2020 if compared with annual growth projections before the coronavirus pandemic hit, according to a recent study carried out by United Nations Conference on Trade and Development (UNCTAD).
China is India's largest trading partner, and Chinese investments are significant in the Indian technology sector. While China accounts for 5% of India's exports and 14% of India's imports — in US$ value terms — India's imports from China are just 3% of China's total exports. More importantly, China's imports from India are less than 1% of its total imports.
This clearly indicates that India will lose more than China, if trading between two most populous countries derail in the aftermath of recent border clashes. Mineral fuels, ores, slug and ash, bituminous substances, organic chemicals and cotton were among the key products (in value terms) that were exported to China during 2019-20. Iron ore and mineral fuel commodities alone contributed to over $4 billion out of the $15 billion worth of Indian exports to China between April 2019 to February 2020.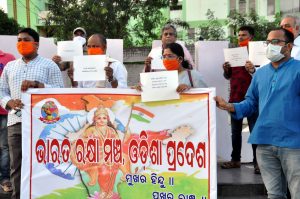 With anti-China mood sweeping across the country, the trading between two countries will get affected. Visuals of Indians breaking and burning their fully functional Chinese appliances such as TVs have been doing the rounds in social media. In Odisha for instance, the Bharat Raksha Manch on Friday protested against the Chinese incursion and attack on Indian soldiers ion the state capital of Bhubaneswar.
Condemning the barbaric and savage attack by the Chinese Army, the protestors chanted the slogans of "Bharat Mata ki jai, Vande Mataram." They also carried banners that read: "We support the Indian Army, Boycott Chinese Goods, Stop exports to China".
The President of the State Unit of the Manch, Dr. Ashok Acharya called for ban on exports of raw materials to China. Out of the 25 ships in the berths and anchorage at Paradip Port, 20 are ships which are taking iron ore to China, he added.
Anil Dhir, the National Secretary of the Manch demanded withdrawal of the Most Favored Nation status accorded to China.