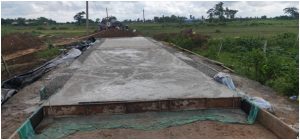 By Bizodisha Bureau, Bhubaneswar, June 16, 2020: The City-based Kalinga Institute of Industrial Technology (KIIT) has developed green construction material without cement.
KIIT claims to have developed this technology for the first time, which has been implemented successfully in Odisha. The pilot road project was carried out by Rural Works Department, Cuttack under research and development (R&D) scheme near village Amanapada in Cuttack district early this month, a KIIT release said adding that the green concrete road was constructed without using cement and using only industrial wastes.
The new technology primarily is centered around, fly ash based geo-polymer concrete, which does not contribute to global warming, said the release. The mechanical and durability properties are similar to normal cement concrete, it claimed.
The cement industries contribute about 6% of all CO2 emissions, next only to automobiles. Ever increasing production of cement may also cause acute shortage of limestone, the main raw material, in 25 – 50 years.