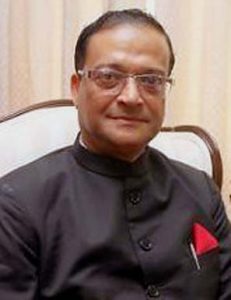 By Malay Mishra in Puri, May 1, 2020: The other day a prime time television channel showed a Muslim doctor donating his plasma to a Hindu patient. It was an uplifting moment, if not an exercise in harmony, in a socially disturbed and depressed world hit by a savage pandemic.
Asked how he felt donating his plasma to a Hindu person, he said, "I don't know about the other person nor would I like to know whether he is Hindu or Muslim or belongs to some other religion, I only know that my blood has the same colour as his".
The doctor had been in the forefront of battling the COVID-19 and did not bother to look for his patients' religion before putting his hands for their care. Surely he did not belong to the Jamaat! It is a different matter that the efficacy of plasma therapy has now been declared questionable by the Health Ministry.
The doctor is not an isolated example of a counter narrative that a diverse India has to stay united without being shaken by horrific tales, mostly concocted, of the Jamaatis having caused horrendous acts of mendacity and lasciviousness in hospitals and other public places.
Stories of Muslim charities distributing food and aids to the poor and needy have dotted the Indian landscape since the lockdown was enforced. These have been run by selfless individuals and NGOs with scores of volunteers and helpline centres. Without bothering for the virulent hatred which had been unleashed by certain sections of the media and even the ruling establishment they have carried on their good samaritan work nonetheless.
Examples come galore: 'Food-Ek Chhoti Si Asha' run by Nikhat Mohamedy in Mumbai, 'Helping Hand Foundation', a nationwide NGO founded by Mujtaba Askari in Hyderabad, the Jamaat-e-Islami Hind (JIH), a pan India organization spearheading relief efforts all over India, the Zakat Foundation of India located in Mumbai distributing food, aids and awareness among the poor people from all faiths, the Humanitarian Relief Society of Karnataka distributing thousands of food kits daily and the Roti (Bread) Bank of India of Bhopal founded by Mohammed Yasir are some of the view prominent examples. All these Muslim organizations have been working day and night even during the current month of Ramadan!
The shrill cries of 'corona jihad', 'corona Jamaat' and 'Markaz virus' may have receded in the interim, so also the daily blatantly communalised Health Ministry press briefings attributing over one third of all coronavirus cases in the country to the ill-fated Assembly at the Nizamuddin Markaz, but surely efforts are being made time and again to rake in the bogey of the 'other' in an attempt to deflect efforts made by the government in handling the pandemic.
India has to fight together. The PM's anodyne message, albeit on a business platform, Linkedin, on April 19, that "COVID-19 does not see race, religion, colour, caste, creed, language or borders before striking", could not have come a day later. In fact much of the damage in vitiating the atmosphere has already been done, to the point of infuriating several of key Gulf states with whom India has developed very close relations. As if like a relay, the same language was echoed exactly a week later by the chief of the RSS to respect diversities and work towards unity and integrity of the nation.
It needs to be reiterated that the Gulf countries, almost all Sunni ruled with the exceptions of Iran and Bahrain, are responsible for $60 billion annual remittances through the overseas Indian population working there, 80% of them blue collar workers, the remaining a mix of professional and business persons. India has also belatedly realized that to aggravate Muslim sentiments at home could have sharp repercussions in bringing down relations built assiduously by the Modi government over the last 5 years for energy, business and security considerations.
The 'hate Muslim' sentiments fuelled through social media in several countries of the Gulf could not only jeopardize India's secular image but also pull down India's ratings among its Muslim friends and notably in the OIC which has already demanded that India take the strongest measures possible to check such blatant Muslim-basing. Foreign Minister Jaishankar therefore did not waste time in dialling up his counterparts in the UAE, Qatar, Oman, Kuwait and Saudi Arabia to cool down tempers while putting Indian missions in these countries on high alert to douse the flames.
Observers have discerned a certain pattern in anti-Muslim behaviour among certain elements in the majority community. The events earlier this year as a fallout of the anti- CAA riots had much to prove that. The Jamaat incident only aggravated the same and led to a pan-India level of hatred and bigotry.
Gandhi, who had seen Hindu and Muslims as his two eyes, had famously said during the pre-partition riots, "An eye for an eye will only make the world blind". If India is to be perceived as an 'ancient palimpsest on which layer upon layer of thought and reverie had been inscribed', it is time to end these bitter squabbles. There are many other pressing issues of nation-building, reconstruction and enlightened governance. The pandemic, if not anything, has shown the virtues of one nation and the people inscribed as one.
Ambedkar's preamble, as Aakash Singh Rathore says in his eponymous book, begins with the immortal words, WE, THE PEOPLE OF INDIA and goes on to affirm the noble principles of justice, liberty, equality and fraternity for all in a secular, socialist, sovereign democratic republic. Let us be all there as one people, one nation. That the same despised Jamaatis came out in full force to donate their plasma for the cause of their fellow citizens could not have been a better realization, none too soon, of this inviolable truth.