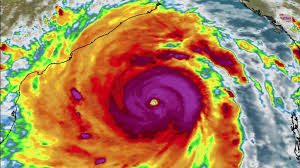 By Bizodisha Bureau, Bhubaneswar, May 18, 2020: Cyclone Amphan has turned into a super cyclone, the India Meteorological Department (IMD) tweeted saying that the 'severe' cyclonic storm has intensified into a 'super cyclonic storm.'
Cyclone Amphan, which has been intensifying over the Bay of Bengal, will most probably make landfall somewhere between Kolkata and Chittagong in Bangladesh on Wednesday.
As per the Met department, Amphan, which was present over central parts of South Bay of Bengal and central Bay of Bengal moved northwards before intensifying into a super cyclonic storm.
The IMD, which tracks storms in this area, has issued cyclone warnings for West Bengal and the north Odisha coasts. It also is predicting a storm surge to the right of the storm's center to reach a staggering 13 to 16 feet with waves riding on top of that. The storm surge is the storm-driven rise in water above normally dry land.
Fishermen have been told not to venture into the sea as IMD says the condition in the waters will be "phenomenal" over central Bay of Bengal and adjoining north Bay of Bengal.
Prime Minister Narendra Modi held a meeting with the Ministry of Home Affairs (MHA) and National Disaster Management Authority (NDMA) officials on Monday to review the situation arising out of cyclone.
This would be the first super cyclonic storm in the Bay of Bengal since the 1999 cyclone that hit the Odisha coast, killing around 10,000 people.
A 'yellow' alert has been issued for five districts in the state — Gajapati, Ganjam, Puri, Jagatsinghpur and Kendrapara. The coastal regions will start experiencing heavy rainfall from Tuesday while heavy downpour is likely to lash six districts Wednesday, including Balasore, Bhadrak, Jajpur, Kendrapara, Mayurbhanj and Keonjhar.
Odisha chief minister Naveen Patnaik has put a target of zero casualties before the administration and added that the state government has urged the Centre to temporarily suspend 'Shramik Special' trains passing through areas falling in the direction of Cyclone Amphan.
Authorities have also predicted that around seven lakh people from 649 villages along the sea coast are likely to be affected due to Cyclone Amphan.
National Disaster Response Force (NDRF) Director General SN Pradhan said that 37 teams have been deployed in seven districts of Odisha and six districts of West Bengal in view of cyclone Amphan.
According to Pradhan, 20 teams will be actively deployed while 17 teams have been kept on standby.