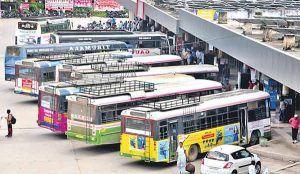 By Bizodisha Bureau, Bhubaneswar, March 22, 2020: Streets and markets in Odisha wore a deserted look as public transport vehicles remained off the roads while most of the shops, non-essential services and business establishments remained closed due to 'Janta Curfew' in the state.
In fact, Normal life came to a standstill across India as people observed the self-imposed curfew between 7 am and 9 pm on Sunday.
Prime Minister Narendra Modi on Thursday urged citizens to observe Janta Curfew. Going a step further, Chief Minister Naveen Patnaik on Sunday declared that 40 per cent of the state will be observing a lockdown for a week starting March 22. The lockdown will be observed till March 29 in five districts and eight towns of Odisha.
The number of COVID-19 positive cases in the state remains at two while 28 persons are currently in isolation in hospitals, according to Odisha's COVID-19 Spokesperson Subroto Bagchi.
"76 samples were sent for test and reports of all the samples have been obtained. All the samples were tested negative and the health of the two coronavirus positive patients' are stable", Bagchi told media persons.
Purighat Police in Cuttack has registered an FIR against a person under Home Quarantine for not following the advisory and indulging in risky behaviour. The identity of the person is not disclosed to protect his privacy, Bagchi said.
Baghci also said, "Railway Board has declared closure of all Passenger Trains with immediate effect and up to midnight of 31st March. The trains en route shall be allowed to reach their destination.
He further informed that all interstate bus operation to and from Odisha will remain suspended till further orders. Inter-state buses coming from other states will not be allowed to reach their destination in Odisha after 11AM on 23/03/2020. Similarly, no inter-state bus will be allowed to operate to other states from Odisha after 11 AM on Monday
Meanwhile, the Odisha government has constituted a State level Monitoring Unit on Goods & Services. The Committee shall assess requirements and monitor the flow of goods and take actions to remove bottlenecks if any. It shall also create a platform to facilitate traders and transporters to air their issues and resolve the same.
There shall be no restriction on the movement of Permitted Goods including coal and other minerals to ensure a smooth supply chain. All Permitted Goods vehicles shall be allowed to move unhindered.
Wholesale markets shall function 24X7 on a rotation basis with time slotting for different wholesalers to operate to avoid overcrowding in the market.
All the Sports Hostels under the Administrative Control of the Sports and Youth Services Department have been closed from 23rd March to 5th May. The inmates will be given food expenses and allowances for this period and will be paid travelling expenses for safe return to their home, Bagchi concluded.