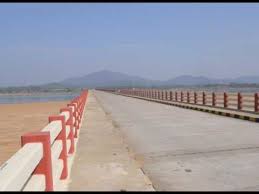 By Bizodisha Bureau, Bhubaneswar, December 5, 2019: After years of rift over alignment of proposed coastal highway from Satapada to Digha, Odisha government has finally agreed to the reworked alignment plan of the National Highways Authority of India (NHAI) for the Satapada-Digha stretch of the project under the Bharatmala scheme.
The Rs 7500 crore highway project passing through the coastal areas of the state was proposed under the Bharalmala Pariyojana of the central government. Union road transport and highways minister Nitin Gadkari had announced the project in April 2015.
The project, however, could not make any headway in the last four years as the state government had opposed the alignment plan finalized by the National Highways Authority of India (NHAI). Odisha govt had insisted the NHAI to develop the highway close to the sea, which will also result in boosting tourism potential.
At a meeting between the State Government and NHAI officials held on November 15, the agency informed that alignment from Gopalpur to Ratanpur and Basudevpur to Digha was presented before the Union Ministry of Environment, Forest and Climate Change, on which certain observations were raised over the alignment passing through Chilika lake and other eco-sensitive areas.
Keeping these observations in mind, the alignment was reworked. The proposed alignment from Satapada to Digha via Puri-Konark-Astaranga-Ratanpur-Dhamra-Basudevpur-Chandipur was approved by the State Government, which asked the NHAI to proceed forward for obtaining due clearances.
It was also decided at the meeting that alignment from Gopalpur to Satapada via Chilika lake will be reviewed in another meeting and decision on the same will be taken thereafter.
Though the initial cost of the 415-km project was estimated at Rs 7500 crore, it would exceed by the time of implementation. Of the total initial cost, Rs 6,000 crore was earmarked for road construction while Rs 1500 crore was estimated for land acquisition.
The Puri-Konark marine drive will be part of the proposed coastal highway project. On the Konark-Astaranga stretch, the project is expected to pass around 10-km from the coastline. The highway project will also provide connectivity to 178 villages in Ganjam, Puri, Jagatsinghpur, Kendrapada, Bhadrak and Balasore districts.