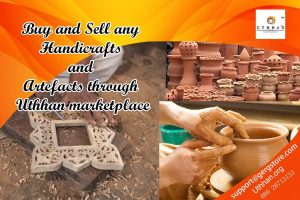 By Bizodisha Bureau, Bhubaneswar, November 21, 2019: Artisans in Odisha are in dire straits after the FANI cyclone blew away the factory sheds. Struggling to eke out a living, these artisans particularly in coastal Odisha are now being bailed out thanks to UTHHAN – an initiative to market their products directly to the end customers without any middlemen and without any hassles.
Incidentally, UTHHAN has got endorsement from these hapless artisan families, because this is the first initiative in India where profit from artifact sales goes directly to artisans without any middlemen.
"We have come across more than 670 villages, conducted seminars, training and enrollment programmes for the artisan families. Majority of artisan families in Odisha neither have a shed to sleep nor has money to give education or proper health facilities for their kids" according to Ambit Mishra Uthhan State Coordinator from the state.
Elaborating the initiative, Leemon Ravi, National Coordinator, UTHHAN said, "UTHHAN is the first mobile and web based platform to succor and support artisans about latest designs of handicraft products and in selling their products without involvement of middlemen and hence getting the direct profit to the artisan families. We have so far registered 10,000+ families. We are feeding 10,000+ families in states like Kerala, Tamil Nadu, West Bengal, Karnataka, Arunachal Pradesh, Odisha, Bihar, Jharkhand, Uttar Pradesh and Delhi. Our aim is to reach 50000+ families by 2020. This is a necessity, so that the younger generation will take up the craft skill without which this will extinct".
The art villages of Odisha contribute to the treasure of this Indigenous Cultural Heritage of India in their own exceptional way. These villages are well known for their excellence in Pattachitra paintings, "Patta" means "cloth" and "Chitra" means "picture". Dandasahi and Raghurajpur are home for many national award-winning craftsmen. The entire village community is engaged in making Pattachitra, palm leaf engraving, tribal painting, mask making etc. Their ability is to turn almost any unnoticeable thing into a treasure with their painting work of outstanding artistry.
UTHHAN's move to empower artisans in Odisha and other states through mobile application have paid rich dividend. In fact, UTHHAN aims to make these art forms available to customers directly from these families thereby empowering them, said a team member.