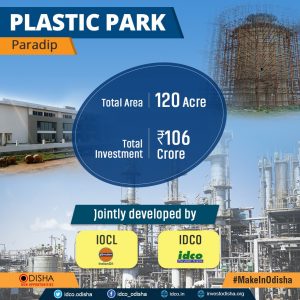 By Bizodisha Bureau, Bhubaneswar, November 5, 2019: Odisha seems to be emerging as a model state in setting up plastic park. The park is located within 10 km of the major port at Paradip.
The state has set up a plastic park sprawling over 120 acres in collaboration with the public sector oil major Indian Oil Corporation (IOC). The state owned Odisha Industrial Infrastructure Development Corporation (Idco) and central PSE Indian Oil Corporation (IOC) hold equity.
This plastic park is being developed at a cost of Rs 106.78 crore, is nearing completion with basic facilities like internal road of 18m width, water supply system, overhead tank, drainage and sewerage system already in place.
The Centre has approved four plastic parks for implementation by 2019-20- Assam (Tinsukia), Madhya Pradesh (Raisen), Odisha (Jagatsinghpur) and Tamil Nadu (Thiruvallur). But Odisha project has taken off with the launching of testing lab and first batch of training programme, officials said.
Incidentally, all other states where plastic parks are supposed to come up are literally struggling. But the Odisha government has gone ahead by earmarking a parcel of land as an industrial park and commenced allotment of land to different units.
The plastic park also has a Skill Development Centre for upskilling the staff. Idco has also prepared a shelf of project due to which a small entrepreneur need not run around to prepare a project report, sources said.
The park envisages major investments in manufacturing units for plastic products such as woven sacks, plastic pipes, injection moulded components, films, pouches, packaging products and other consumer plastic products and supporting infrastructure for producing various components and inputs that go into the manufacture of plastic products. The park would be equipped with facilities for warehousing, logistic, plastic recycling, testing and R&D to provide better price realization and waste minimisation.