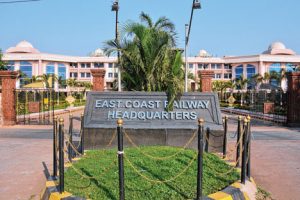 By Bizodisha Bureau, Bhubaneswar, July 11, 2019: In a major boost to railway infrastructure development in Odisha, the Railway ministry has allocated Rs 5993 crore in the Railway Budget 2019, which is now part of the Union Budget – an increase of Rs 741 crore from last years' outlay. This has been the highest every railway sector allotment for the state of Odisha.
The Interim Budget 2019, which was presented in the month of February this year by Piyush Goyal, had allocated a sum of Rs 5940 crore, while the last year's budget of 2018 had allocated a sum of Rs 5252 crore to the state of Odisha. According to an East Coast Railway zone's (ECoR) spokesperson who was quoted in the report, the fund was allocated for several projects, passenger amenities, track renewal and repairs, road over bridges, road under bridges, electrification as well as staff amenities. A slew of new railway projects have been sanctioned for Odisha in the Railway Budget 2019 and the passenger amenities have received an allocation of Rs 180 crore alone.
However, former Union Minister Srikant Jena described the funds allocated to Odisha in the current Rail Budget as 'meagre' compared to the annual revenue the State pays to the Railways.
"Odisha is giving Rs 20,000-Rs 25,000 crore revenue to the Railways per year but is getting Rs 3,000- Rs 5,000 which is too less", Jena said adding that the current allocation of Rs 5,600 crore in the Budget for Odisha is just in pen and paper, while the actual allotment is Rs 3,000 crore as Odisha had returned Rs 2,000 crore last year because of failure to spend in various rail works.
He lamented that the allocations made for Odisha this year will not be sufficient to either complete the old projects or take up any new projects.
Similarly, in the current Railway Budget there is no provision for new railway line; only some allocations have been made to take up a few old projects," Jena said demanding a rail coach factory, modern amenities and sports complex by the Railways in Odisha as it has done in other States, besides medical colleges in Keonjhar and Rayagada.
Jena also urged the State Government to take over the rail transportation works by setting up the Rail Corporation. He said this would fetch at least Rs 10,000 crore profit to the State, besides creating job opportunities for many Odia youths.