By Biswaraj Patnaik in Puri, May 15, 2019: Even today Odisha is infamous for being a unique 'natural calamity' zone. They say it unfailingly observes annual disaster events anyway- droughts or floods or severe cyclones.
Around 1999, even the most developed industrialsed nations did not have any device or skills to forecast cyclonic weathers- let alone predict accurately. The fiercest 1999 cyclone ravaged Odisha with huge damage to life and property- including domestic animals and cattle. The disastrous event did literally shatter the backbone of Odisha beyond repair.
Around that time, the horrifically defamed Janaki Ballav Patnaik regime had just been dismissed by the Congress high command for gross misrule and countless scams. A popular 'aborigine' leader called Giridhara Gamanga was dispatched from the Union ministry to take charge. The tribal politician Gamanga could not figure out anything about the bizarrely dirtied Odisha politics then. And the super cyclone had just blown most valuable goods of the state. So Gamanga blundered like mad and chose to get evicted in a most theatrical manner. The Congress era then literally came to an end.
The cyclone victims had suffered heavily due to lack of preparedness and equally badly during rehabilitation and reconstruction stages as there was no skilled outfit to manage disasters. Naveen
Patnaik became chief minister and, clever that he is, took the terrible situation for a unique opportunity to learn and deliver in a scientific and orderly manner with least pilferage and corruption.
More significantly, he made sure a professional disaster team came in place with rigorous training to remain ready to face and tackle any cyclone or natural disaster with confidence for all future times. He emboldened his disaster management outfit so well as to be branded the best in the world soon. In quick succession, three more severe cyclones swept across Odisha. But the methodical approach to tackling tough situations had become second nature with the Odisha disaster experts.
It was proven by then that Naveen is a visionary, though he does not seem to be one outwardly for his cool looks and religious reticence. Critics portray his cool temperament as indifference and his reticence as gross ignorance. But Naveen, from day one, had known too well the political community of Odisha is a callous, corrupt and self-serving one. So he trusted his bureaucrats more and made sure they delivered the goods with sincerity, more so because they are permanent, do not have to fight elections to be back in authority, and all of them have been chosen through rigorous tests of knowledge, skills and integrity. Rogues among them are only a miniscule exception.
The bureaucratic set-up lead by a handpicked few young officers with proven skills, integrity and of course loyalty have been around to guide Naveen on all fronts including political decisions based on the field situations and people's perceptions. Thus the Odisha phenomenon is a rare one and cannot be replicated elsewhere because magician 'Naveen Patnaiks' are not available elsewhere easily. Political gurus, statesmen of eminence, media masters, social thinkers do all believe the 'Naveen techniques' are mystical and difficult to decipher; and Naveen as a person is so enigmatic that reading him is just impossible.
Only a very few young IAS officers, only one or two of them have been burdened with the task of helping the chief minister take critical decisions on all super sensitive political issues as much as on the administrative front.
Not surprisingly, inconsiderate adversaries and meaninglessly bitter critics, in connivance with some disgruntled fools within the BJD fold, are constantly up in arms against the officials guiding Naveen. It is undeniable a fact that some officials would assume more power and authority because all the chosen ones cannot be as trusted as a very few with whom the boss can relate personally on every issue. It is a simple matter of jellying and vibing well.
One former BJD colossus now fighting on a BJP Lok Sabha ticket, had flipped his lid at the sight of an extra-brilliant public official seen briefing the chief minister on the political field situations so as to facilitate the boss take fitting decisions as per people's aspirations and hopes. So the colossally wealthy, otherwise well-groomed political leader in question insisted that the officer be dislodged from his enviable berth. Naveen did not agree; and the big guy snapped decades-old relations with the BJD. Elections have just been over. Results will indicate if Naveen administration is still popular or the 'Modi wave' was strong at all in Odisha.
Interestingly, even the know-all American has confessed severally that the Odisha disaster management team is just superb with no match anywhere in the world.
Fani' hit Odisha coast on 3, May devastating Puri and parts of Khurda district. It could claim only 34 lives but uprooted millions of age-old shade-giving trees, several thousands of houses and roads and electricity poles.
Communication facilities in the affected regions have been frighteningly destroyed, most of them irreparably so. 137 Blocks 46 ULBs, 14,835 Villages have been badly affected. 1,07,84,915 persons who may have been in utter distress are being provided with relief materials including plastic roof sheets and daily-use items. At extreme distress locations, free wholesome cooked food is being given in a peaceful and systematic manner.
Safe drinking water is supplied by tankers and fire service vehicles.
The biggest damage has been caused to power supply towers and cables. Hence the only thing that missed for the longest period is electricity. Cuttack and Bhubaneswar have been electrified already. The worst-hit Puri town and the surrounding area is still without power. However from day two the state agencies have placed a novel, mini generator-powered street lighting system called 'Aska' poles have been placed at all crossroads and streetsides. Darkness has been dispelled within two days.
Nearly all the 400 KV 220 KV and 130 KV towers have been uprooted or twisted-bent irreparably. Each one of them is being replaced with new towers. Further, 5030 Kms of 33 KV lines, 38613 Kms of 11 KV lines, 11077 pieces of distribution transformers, and 79485 Kms of LT lines have been completely destroyed.
It is very moving to see workmen slugging in the hottest sunshine in power restoration efforts. The excessive heat and humidity have not dampened the spirit of the inspired guys from all over the neighbouring states. Some of the Muslim linemen have expressed great satisfaction for the opportunity to serve mankind during the holy 'Ramzan' month.
All the material goods will come back in place soon enough. Grain and cash crops are gone but much of it will be recovered soon enough with a fresh crop cycle, as grains, seeds and lentils will grow in six months yet again. But the large trees standing mute witness to countless historic events across centuries shall not be seen ever again. The green less, shade less landscape hurts badly.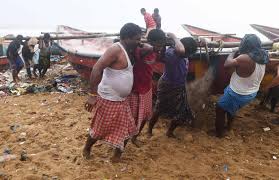 Evacuation of 1.3 million people was done in record time to save lives. Rescue work has been commendable, which shall be defied by insane, unreasonable critics. But the larger world with an objective, unbiased mind has already expressed great wonder as to how the Odisha administration could do so much in record time. The fiercest summer cyclone on record has been defeated. The 'Paradip 99', as the 1999 super cyclone was posthumously named, was less severe and intense. But it lasted longer with a larger diameter system. 'Fani' meaning the hood of a cobra, was a smaller system with faster speed. The diameter was 50 kilometers and the speed was faster. So it pounded the worst affected Puri for only three hours.
It is rumoured that the authorities purposefully did not disclose the intensity of 'Fani' which touched a wind speed of 350 kms per hour, though for a few moments only. Puri town took the beating of 'Fani' landfall. Incidentally, the tourist-pilgrim destination had never ever been victim of any colossal natural disaster on record. This time too greater damage was avoided as the Lord willed. Pious people say the Lord boosted its original speed of 7 kms to 17 per hour and made it fall quite in daytime. It was scheduled to have landfall at 530 pm and crush Puri for nearly eight long hours in dark. Divine miracle seems to have happened.
Naveen has proved yet again that Odisha has the most enviable 'disaster management' outfit on the planet today.