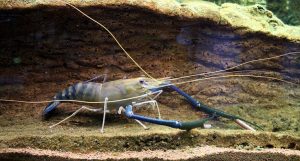 By Bizodisha Bureau, Bhubaneswar, May 17, 2019: Shrimp production in Odisha has been hit very badly due to cyclone Fani, which virtually blacked out 14 districts for more than 10 days since May 3 – when the severe cyclone struck Puri with a gale speed of more than 260 kilometers.
Consequently, Fani has virtually shut aquaculture farms in several coastal regions in the state. Still worse is the 10-day long power failure here where most of the seafood processing units are located.
"Seafood sector in the state has been badly hit by Fani. We are still the process of assessing the total damage, but at hindsight, I can says that it could run to Rs 500 crore,'' Ramesh Mahapatra, chairman of Magnum Sea Foods and Utkal Chamber of Commerce and Industry, Odisha chapter on Friday told "Bizodisha.com".
Total shrimp production in Odisha has gone up over the past few years to around 50,000 tonnes a year, making the state the fifth largest producer after Andhra Pradesh, West Bengal, Tamil Nadu and Gujarat.
Seafood production is largely hit due to lack of power supply for over ten days now. The producers are just running the cold storages on generators to avoid total loss.
Fani has virtually destroyed the farms of Puri, Khorda, Jagatsinghpur and Kendrapara. However, Balasore and Bhadrak, where majority of the farms are situated, the impact has been less severe, Mohapatra added.
Power is gradually getting restored to most of the districts affected by the cyclone. "It is well-nigh impossible to make up for the production loss in the coming months,'' said Mahapatra.
In fact out of total production of shrimps in Odisha aquaculture accounts for more than 80 per cent. Odisha's share in the country's total export of shrimp is about Rs 3000 crore.
Many farms have resorted to 30-40% stocking of young shrimps for growth and harvest, in line with the general trend in most of the shrimp aquaculture production states. Exporters may be hard put to pay better prices to farmers now because of output loss.
The promoters of sea food are worried that their overhead expenses have shot up because of lack of production due to the disaster wrought by severed cyclone Fani.
With the government giving least importance to MSME sector at the moment, Mohapatra lamented saying "Our problem is that the government gives the least priority to our crisis. We have written letters to the prime minister, chief minister and others to bail us out. But we have not heard anything from the government. We are really in a fix".