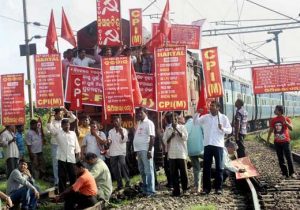 By Bizodisha Bureau, Bhubaneswar, January 8, 2019: The two-day nationwide strike called by central trade unions to protest the Centre's alleged anti-worker policies disrupted normal life in Odisha on Tuesday and traders have lost business transactions of around Rs 2,500 crore on the first day of the two-day strike.
Shops, markets, business establishments, educational institutions, banks and offices remained closed, while vehicular movement virtually came to a grinding halt across the state during the strike.
"Traders in the key markets have suo moto pulled down their shutters to avoid any untoward incident. The loss in business due to two-day bandh called by the trade unions will be around Rs 5000 crore", said Sudhakar Panda, secretary, Odisha Baybasayai Mahasangha.
Most shops, business establishments and commercial centres downed shutters in all the major cities across the state.
The roads wore a deserted look with vehicular traffic coming to a grinding halt in the state as buses, trucks and rickshaws remained off the roads.
Similarly, train services were disrupted as the agitators protested at different railway stations including Cuttack and Bhubaneswar. While 20 trains have been controlled en route due to the strike, seven trains were cancelled fully and two more were partially cancelled.
The Odisha government announced closure of anganwadis, schools, colleges and universities across the state on Tuesday in view of the two-day Bharat bandh call given by different trade unions.
Commissioner of Police of Bhubaneswar-Cuttack, Satyajit Mohanty said adequate police personnel have been deployed to prevent any untoward incident during the strike. The strike is peaceful so far, he said.
In the port town of Paradip in Jagatsinghpur district, trade union activists staged a demonstration near five gates of Paradip Port and blocked the road leading to the IOCL refinery at Rangiagarh, police said.
Different political parties including Congress, left parties, the ruling BJD and its trade union front Biju Sramika Samukhya (BSS) have extended support to the strike called by 10 central trade union organisations.